Shouldn't RB be eating at least as healthy as CPS?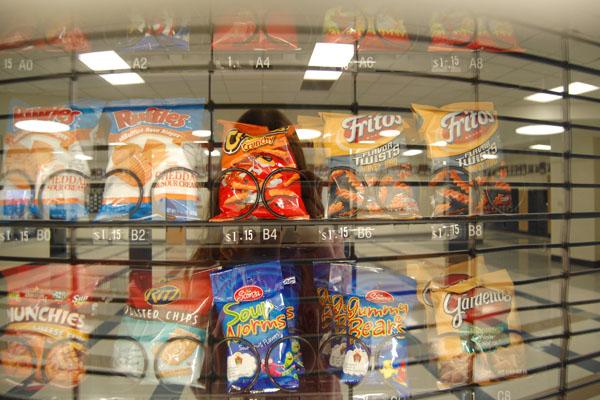 Recently Chicago Mayor Rahm Emanuel has proposed an ordinance to promote healthier foods in vending machines and guidelines to exclude non-healthy food options in the Chicago Public Schools.  His proposal includes ensuring that at least 25% of beverages contain 25 calories or less and 75% of snacks contain 250 calories or less.
To make things fair for everyone and open the market, Emanuel wants gluten-free and nut-free options to be introduced into all vending machines. Finally, Emanuel wants to ensure that the overall cost of snacks and beverages does not increase.
So, how do RB's vending machine offerings look in comparison?
RB's vending machines offer 27 different drink choices.  Six of these, or 22%, would meet Emmanuel's criteria of being 25 calories or less (two water options and four Diet Pepsi options).  The remaining drink choices include six regular Pepsi choices, three Mountain Dew choices, six Crush choices, two Sierra Mist choices, three Brisk Iced Tea, and one green iced tea choice.  As a whole, these drinks average 240 calories and 65 grams of sugar per bottle.
Snack choices include Doritos, Lays, Cheetos, Fritos, Gummy Worms, Pop Tarts, Chex Mix, Big Texas doughnust, Animal Crackers, Sun Chips, pretzels, and trail mix.  As a  whole, the snacks average 320 calories and 20 grams of fat per purchase.
These numbers show that RB's vending machine offerings lag behind Emmanuel's proposal.  A similar ordinance or policy change to vending machines at RB could only benefit the health of our students.
RB should take a similar approach in order for students to learn how to make informed food choices. RB restricts snacks during schools by not allowing the vending machines to be used during school hours, but what if they went further and regulated options available in the machines for students who use them before and after school?
I think that putting better food options in the vending machines the students here at RB use would be better for their health. Unhealthy snacks teach students bad habits that they will bring with them past high school. So, if the school could help to change the habits of the students, they can help students live healthier lives.