Girls' basketball takes second at Holiday Classic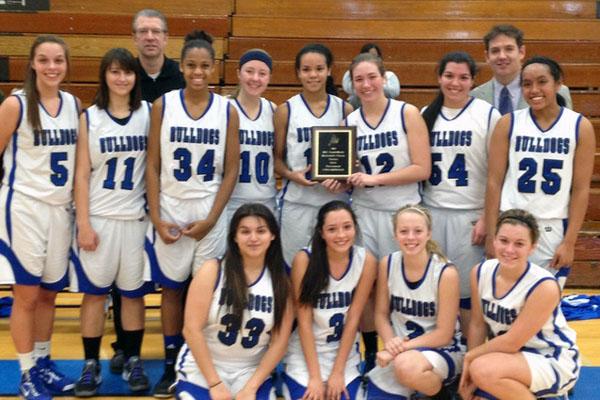 The girls basketball team hopes to continue their winning ways into the new year after receiving second place in the Holiday Classic tournament.
The girls opened up the tournament against Lane Tech. At halftime, the Bulldogs had a healthy lead of 45 to 17 and this lead led to an eventual victory. Senior Brittney JnoBaptiste help carry the team through with 18 points and 11 rebounds. The final score was 65 to 35 in favor of the Bulldogs.
Their next contest was up against Reavis.  Reavis came out strong and were up 11-3 after the first quarter. The Bulldogs would then fight their way back into the game and make the score 12-11 at the end of the second quarter.  The third quarter was too much for the Rams to handle, as the ladies took control with a 39-23 score line, in favor of RB. The fourth quarter finished 54 to 34 for the bulldogs. Hannah Claywell led the team in points with 17 for the night, and 6 steals.
The Argonauts were next on the list of fixtures for the tournament, and it would be a close match up. The Bulldogs took the match right away, as they led at halftime 22-14. JnoBaptiste was the difference maker, as her 15 points along with Claywell's 13 points to help the Bulldogs to the tournament final after beating Argo 44 to 36.
Wheaton St. Francis would be the final match up in the tournament, as the game would be a tough test. The Spartans came out a little bit faster than the Bulldogs and were up 23-21 at half. The Bulldogs would fight long and hard, but Wheaton sealed the victory and won the 2012 Holiday Classic Tournament.
The Bulldogs resumed conference play this weekend as they were away against Fenton. Fenton had a flying start, as they took the reins straight away with a 30 to 16 lead at half against RB. But the Bulldogs were resilient, as they showed great team spirit to come back from behind and win the match 55 to 44. Claywell clicked into gear with 27 points for the night, scoring eight alone in the third quarter to spark a comeback.