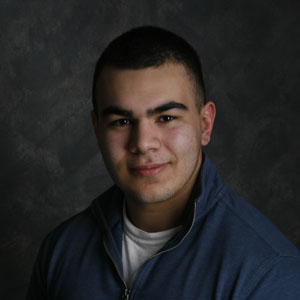 In his third and last year in Clarion, Nick Kirkines returns in his first ever Editorship capacity. As A&E Editor he is responsible for insuring the relevance of all stories that dream of being Arts or  Entertainment related.
But what about non-reporter Nick?
Turns out he's pretty boring.
As a Varsity Football player the majority of his time this year will be spent, well.... playing football. When not playing football, he is working to maintan his grades with the hopes of attending West Point next June.
Nick can be reached at
[email protected]
.
Nick Kirkines, A&E Editor
May 06, 2013

Senior Goodbye: Nick Kirkines

(Story)

Jan 24, 2013

How can chainsaws in 3D be so… boring?

(Story)

Dec 12, 2012

Highlights from the Holiday Concert

(Media)

Dec 13, 2012

Backstage pass to RDE Winter Concert

(Media)

Nov 19, 2012

Unique annual assembly marks RB's Veteran's Day celebration

(Media)

Nov 19, 2012

Don't make us choose between being good students and good citizens

(Media)

Nov 06, 2012

Fall Orchestra concert gives soundtrack to the season

(Story/Media)

Oct 10, 2012

New Fine Arts DC Marelli still singing with the choir

(Story/Media)

Oct 03, 2012

Highlights of Spirit Week 2012

(Story)

Oct 02, 2012

Google Apps brings hi-tech to school spirit

(Media)

May 13, 2011

What led him to his end?

(Story)

May 04, 2011

Does Homefront keep you at home playing?

(Story)

Apr 14, 2011

Crysis 2 is so pretty, but can it stand up?

(Story)

Mar 25, 2011

Students' brains now being censored

(Story)

Feb 23, 2011

Will You Survive?: Dead Space 2

(Story)

Jan 19, 2011

True Grit is as gritty as it gets

(Story)

Dec 06, 2010

Leslie Nielsen will be sorely missed

(Story)

Nov 01, 2010

Medal of Honor a hit or miss experience

(Story)

Sep 07, 2010

The Expendables blows away competition

(Story)

May 05, 2010

Freddy Krueger flick is a nightmare

(Story)

May 05, 2010

Splinter Cell: Conviction better than MW2

(Story)

Feb 08, 2010

Does the jetpack justify the game?

(Story)