Twin tournament wins have girls basketball on a hot streak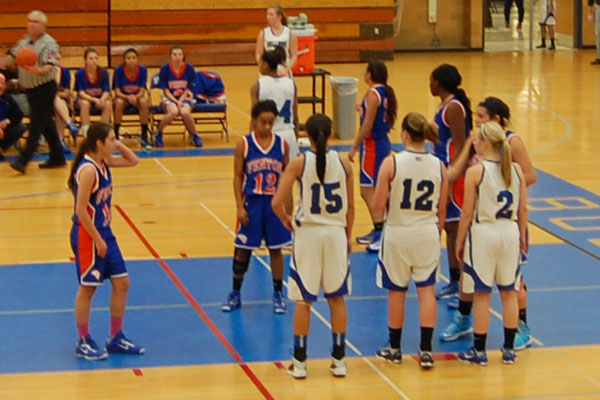 The girls basketball team started their season in style, with a nice piece of hardware in their victory over Argo High School in the Argonaut's Challenge. The girls went 3-0 in the tournament, defeating Addison trail 69-48, Guerin 50-40 , and the hosts Argo 50 – 36.
"The team looks really good this year, and I'm very proud of our spirit, but there is always room for improvement," said head Coach Dallas Till. This is Till's second year as RB Girls Basketball head coach, and he appears to be enjoying every second of it.
Hot on the heels of the Argonaut's Challenge, the team entered the 10th annual Bill VandeMerkt Tournament over Thanksgiving.  The Bulldogs dominated their opening match against Mount Assisi 62-27.  Leading the scoring for the Bulldogs was senior Brittney JnoBaptiste with 21 points.  Morton was next on the agenda, and after a fierce game, the Bulldogs came up on top 66-50. JnoBaptiste paced the team again, but close behind was Hannah Claywell with 19 points, and Janea Dabney with 18.
Sensing victory again, the team faced the rival Nazareth Academy squad.  Though RB came back twice from behind, forcing the game into overtime, they lost 46-37. The girls needed one more victory to have a chance at winning the tournament, and they came out strong against Ridgewood, winning 67-47.
RB ended up in a 3-way tournament stalemate with Naz and Morton, who also had records of 3-1.  RB ended up victorious due to their excellent 76% free throw percentage, which acted as a tie breaker.
"The team performed really well, and were really happy to win both tournaments," said Junior substitute Sydney Martinez. "Taking part in the team really does mean a lot, and learning from the experienced players in practice really does help."
The girls next challenge was against the Bison of Fenton at home Tuesday night. The girls started their Metro Surbaban Conference out on top 50-39 thanks to Claywell with 15 points, Dabney with 12, and Emma Schander with 11.
The girls next game is on December 4th at Timothy Christian.