EVERY STUDENT HAS A STORY: Dominic Gabino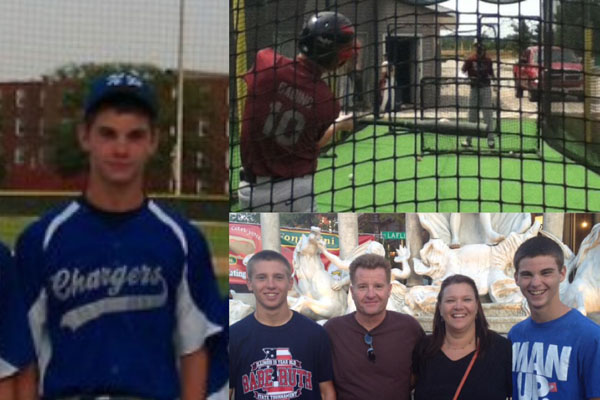 Many may not know who Dominic Gabino is, he is one that would be considered soft spoken and shy. He may not stick out in a crowd, but his story is just as interesting as any. Gabino is in his sophomore year here at RB, and like last year, he reveals that this year, he is very focused on sports, especially baseball. It sounds bland, right? Very focused on sports? To many, that would be the very "cookie-cutter" answer for a sophomore boy to say, but if there was one thing to say about Dominic Gabino, it's the fact that he couldn't be more opposite of "cookie-cutter".
Gabino loves sports, but by no means is he your typical "jock". If you saw him walking down the street, perhaps you wouldn't even know he played sports, but to him sports are his world. Ever since he can remember sports had just been a fixture in the Gabino household and to this day, the trend has not changed. It was instilled in Dominic's head at a very young age that, along with good grades and exceptional school work, the next most essential thing to him was not only playing sports, but watching sports.
"My parents would always tell me that doing well in school was the most important thing for me, and it has been, but playing and watching sports has always been a huge interest of mine. My three favorite sports are football, basketball, and above all baseball, and when I'm not playing them on a team or with family and friends, I'm definitely watching them," Gabino explained.   "I may not be the best on the field, but without a doubt I can say I always try my hardest," he said.
Since the age of three, Gabino, year after year has had a complete infatuation with his favorite sport, baseball. Dominic played football when he was a kid and played basketball all the way through middle school, but baseball has been a constant for him throughout the years. Baseball had been the main sport for Gabino in large part to the fact that baseball had been a big part of his dad's life.
"My dad played baseball in high school, and still likes the game a lot. I think maybe because he likes the sport so much, it rubbed off on me at a younger age. Whenever we could get a chance to watch a game together we would, and we still do. That's what I love so much about the game. It brings you closer to people," said Gabino.
Dominic has played for travel teams, played in countless tournaments, and last year played for the RB freshman team. Last year Gabino didn't get as much playing time as he had hoped, but when he did, he pitched exceptionally and played very well at the middle infield positions. Although he didn't play it much last year he says he plans on trying out for third base this year.
There are many great memories that come to Dominic when thinking about baseball, and that could be a main reason for why he loves the sport so much. It's not only the fact that he loves playing, but he also loves the memories that come along in playing such a great sport.
"I have a lot of great memories that tie in with baseball," said Gabino. "If there was one that really sticks out, out of all of them, it would have to be winning state for the 15 year old Babe Ruth team this past summer. We won districts, went to state, and then after state went all the way to Indiana to play in regionals. It was an amazing time to spend with parents and my friends and without a doubt is something I'll remember for a long time."
Another great thing about sports to Dominic is the fact it brings him closer to his family. Ever since he was little up until this day, the Gabino's every Sunday, if they can, watch football all day. Dominic says that is still his favorite thing to do to spend more time with his family.
Gabino has had many accomplishments in baseball and has many bright hopes for the future. He says all he has been focusing on this fall and will be soon this winter is making the sophomore team. Dominic says that although he feels he is a very good player, with good talent and ability, he is by no means a "superstar". He is a good player, but not a standout. Dominic still tries his best though to stay humble and realize that no matter his past successes, he has to go into tryouts this year acting as if none of that had ever happened. Gabino acknowledges and still thanks his parents for introducing at a young age, the humble qualities he has today.
"If there were anyone that I would have to thank for where I am today, it would have to be my parents. It's probably the answer everyone gives, but it couldn't be more true. My parents, through the good and the bad have always kept me grounded and made me realize that no matter what success I get playing baseball, I should still act like everyone else, and that's what I plan to do this year for tryouts. My dad told me that I have to go into tryouts like a freshman hoping for a spot, and that's exactly what I plan on doing," he said.
Gabino said he wants to finish the first semester strong. He's confident that he'll do well in finals, but like many others he just has the nervousness that finals bring every semester. Having it only being December, when he's not focusing on school, Gabino is getting antsy for February when open gym's for baseball starts. Until then though, he'll do what he's always been passionate about: work hard in school, watch sports, and wait anxiously for a new season to start.