Cheer, Poms in a steady State of consistency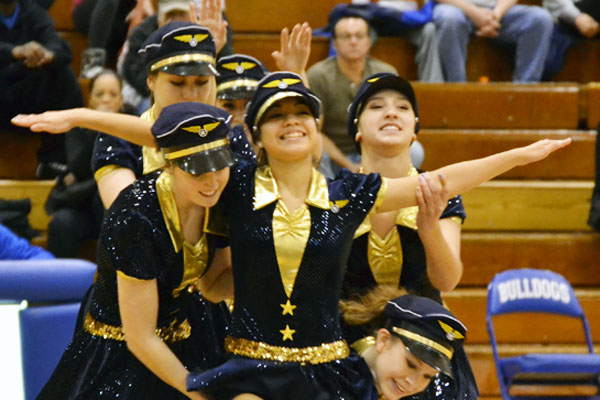 Cheerleaders hungry to return to form of two years ago
With the season in progress, the cheerleaders are hard at work. They have taken place in a few competitions and have a first place finish at Wilmington under their belt. With their successes have also come some disappointments. They came in 8th at Sandburg and 6th at Elk Grove.
Junior Hannah Likness said, "Our season's been a little rocky. We haven't been consistent with our competitions but every practice we're working hard and accomplishing the skills we need and are working towards."
12-year varsity coach Chris Borzym has a sense of perspective on the season. "We have had our ups and downs … along with injuries but were healthy now," he said. The team has now set its sights on State and equaling or improving on their second place finish from two years ago. Last year, the team made it to State but did not place or proceed beyond the first day of competition.
Borzym said, "This team is better than last year's and can be as good as two years ago."
The team will be hosting conference at RB on January 24th. After that they will move on to hosting sectionals on the 28th. The top five teams move on to state in on February 3rd and 4th.
Poms aiming to return to State for 5th straight year
Head Poms coach Mo Gorman said," Our main goal is to qualify for state and to strive for professionalism in our routines." Poms has qualified for State in each of the past four years, all under Gorman's coaching.
"We are trying hard to qualify for state and have high hopes on doing so," said senior Kara Kruse.
Pom's is not an IHSA sport but will become one next year. As of now, they compete in Team Dance Illinois AA open pom. The Poms squad has already placed 1st, 2nd and 5th in their three competitions. They will compete at Waukegan on January 22nd, at Oswego East on February 5th, at Lincoln West on February 11th and at Andrew on February 18th.
They also host conference the same day as the Cheerleaders on January 24th. Sections will be on January 28th and State takes place on March 4th in Peoria.