Improving boys swim team takes 1st at RB invite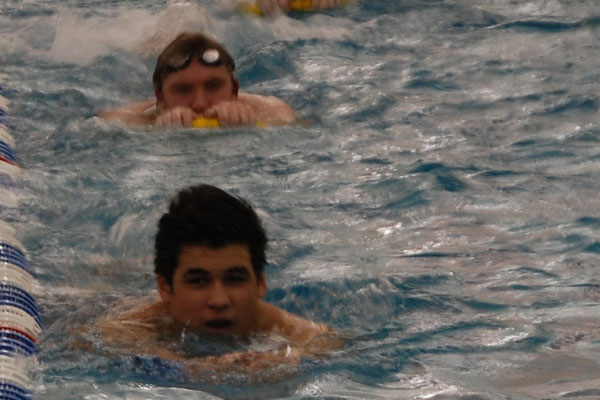 As swim season continues, so do the boys. The boys continue to persevere through the obstacles they are faced with half way through the season.  Swimming is an exhausting sport with long morning and afternoon practices. One can imagine how tired the boys must be. 
Junior Luke Keller said, "One of the obstacles we have to overcome are the three and a half hour practices. They drain you."
Freshman Kevin Garza said, "Waking up is the hardest part, but I'm adjusting well."
So far the boys have won most of their meets and are working extra hard to drop their times as sectionals approach in February.  Senior John Copp has been doing well with handling the pressure to make sectionals and qualify for state. 
Keller said, "Copp has been working hard. Everyone expects a lot out of him."
Senior Ken Castle has been working hard preparing for races as well.  Junior Dan Somers has been trying to improve his time. Keller has had good times and he is working to drop them.  Senior Sean DeMuro has been dropping time and has been doing exceptionally well in his races. Senior Nick Lazzara has been working hard as well.  
Some of the past swimmers are astonished by the amount of talent the freshmen have to offer.  Freshmen Anthony Colon, Garza, Risley, Dominic Rosa, and Tim Walsh have been improving and showing their skills off. Garza, along with Risely, are on varsity and plan on swimming for the next four years.
Garza said, "I'm doing the best I have so far, my times are right where I want them to be."
Keller said, "They are so talented because they have been swimming for years."
Although the boys are having a rough time waking up early and getting into the cold water, they find ways to keep practice fun. 
Keller said, "Sometimes we go out to eat as a team and we have team slumber parties."
Risley said, "We get rowdy and push people into the water, that's our fun."
Although the meet on Thursday the 12th was cancelled, the boys swim team hosted the 58th annual RB invite.  Overall they came in first, taking top honors for the first time since 1964.