Girls basketball seeking to end struggles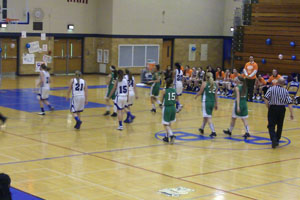 While most students were relaxing, the girls basketball team was occupied over the holiday break. 
The girls varsity team competed in the Riverside Brookfield Classic Winter Tournament and made it to the final against Proviso West. The girls came up short, with a score of 59 to 38 Proviso. They defeated Lane Tech 58-27, Reavis 49-29, and Argo 55-41.
The girls have two wins in their last six, defeating Fenton and Iliana Christian.
"We're going through a rough time right now, but I am confident that the team will start playing better," said point guard Danielle Peco.
The team has been giving up too many turnovers as well as struggling with their defense and rebounding.
 "We make one too many turnovers and I know we can improve that," said Peco.
Coach Dallas Till hopes the team will return to its early season form.
"It's important that we start doing better and going back to how we started off the season, to get ready the state tournament in March," he said.
The sophomores were also in the Winter Classic tournament, and also received 2nd place, falling short to McHenry 48 to 34. On their road to the final, they defeated Lane Tech 37-27, Reavis 49-21 and Argo 49-23.
The freshmen have won three of their last six games, defeating Chicago Christian and Fenton. They are currently 6 and 9 out of their 19 game schedule.