Led by Ljuboja and Henry, boys basketballers start 13 and 4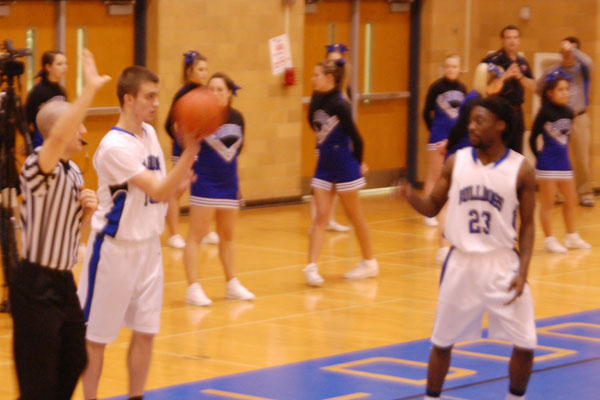 Already halfway through the season, the boy's varsity basketball team is well on their way to yet another conference title. The Bulldogs have started strong by winning 13 of their first 17 games, including a 4-0 record in conference play.
Led by 6-7 Junior center Miki Ljuboja and Junior guard Damonta Henry, the Bulldogs have competed against some of the top talent in the Chicagoland area. In the season opener at home, the Dogs faced off against a very talented Urban Prep squad. Although they lost a close one by a score of 75-72, the Bulldogs showed a lot of grit and toughness. Henry led RB with a game high 26 points along with 9 rebounds.
On December 4th, RB squared off with rival LT in an exciting game featuring two of the top programs in the area. Led by the Sixth Man cheering section, who sported a blackout for the game, the Bulldogs played with passion and fire for the full 32 minutes. Senior guard Andrew Hanley and forward Nazareth transfer Louis Marino both chipped in with 15 points each. Luke Nortier, nickname "Nortis" by the Sixth Man, had a great all around game with 8points, 6 rebounds, and 10 assists.
The Bulldogs have also played very well in non-conference games with victories over Maine South, St. Laurence, and St. Francis with Ljuboja and Henry leading the way.
Henry has paced the Bulldogs with a team-high 17.7 points a game. He has, without a doubt, done a great job of replacing Ryan Jackson who led the Dogs with over 20 points a game last season. He has been very clutch this season and has performed well in the biggest games, including a 25 point performance against Timothy Christian.
The Bulldogs have a very tough schedule down the stretch, one that includes seven straight road games, six of which are against conference opponents, followed up by two home games before the start of Regional's. It seems as if this next month will determine how far the Dogs will go this season. The Bulldogs play this Friday, the 27th against the Rebels from Ridgewood.
Coming into the season, the Bulldogs had extremely high expectations and were expected by most to win their 11th straight conference title. They appear to be well on their way to capturing another title and making a deep run through the IHSA playoffs. Only time will tell if these Bulldogs are as good as their predecessors.