Varsity boys volleyballers leading while freshmen just learning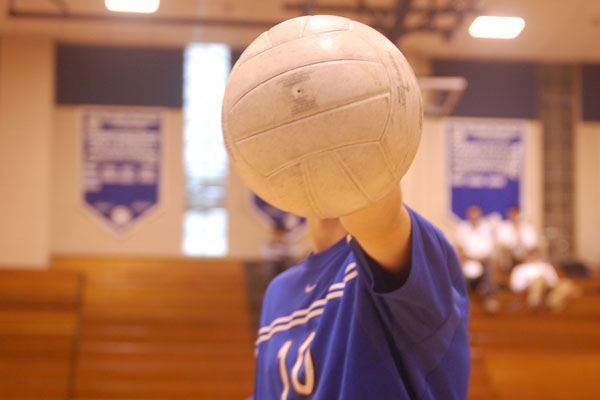 The boys varsity volleyball team has been trying their hardest this season.  So far, the team is 11-7 and trying to make it to the top.
"The team is pretty good. We had a few tough losses, but we are trying to look beyond that and working hard to get to sectionals," said Daniel (Jake) Fiesler.
Fiesler is the libero, a defensive specialist, for the varsity team. When asked about his goal for the season, he said, "To play."  Fieseler was also the starting libero last year on the sophomore team.
The captains of the varsity team are Jack McCarthy,  Richard Green, and Joe Sauer. The starting lineup includes Brian Brown and Jack Gibson as outsiders, Green as setter, Sauer and  McCarthy as middle hitters, Mitch Molloy as right side and Fieseler as the libero. They are looking forward of finishing the season with big wins.
The sophomore team has had a good season so far with a record of 11-5.
"I feel the team has very good chemistry and the performance is much better than last year," said John Payne.
The team had a five game winning streak and are trying to push to perfection. The captains on the sophomore team are Mike Chaney, Benjamin Brondos, and Christian Samson.
"This year we are doing really well and we have a really good winning record," Said Brondos. Brondos is the setter for the sophomore team. "I want to lead the team as best as I can," he added. Brondos was also the only freshmen last year to be on the sophomore team.
Competing on the team has been enjoyable for the players as well.  Payne said, "The people on [the team] and [Coach Jonathan] Gorny, everyone is so funny!"
The starting lineup for the team includes Mike Chaney and Samson as outside hitters, Brondos as setter, Tomek Sitko and Pablo Garcia as middle hitters, Tony Sampson as right side, and Nick Green as libero.
The freshmen team is trying their best to improve as a team.  So far the team has a 2-13 record.
"The team needs a lot of work. We need to learn how to work together more and learn how to not get so aggravated at each other, but overall, we show a lot of potential and need to just work as one," said Danny Corcoran.
The freshman team does not have captains and does not have a set line up.  "I'm trying to be the best player I can be, on the court and off the court," said Corcoran.