Boys basketball still confident after rocky 3-3 start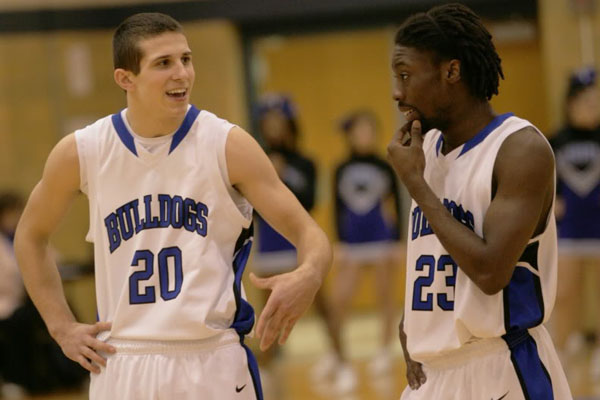 On November 20th, the Bulldog boys basketball team opened up their season in the annual Bill VandeMerkt Thanksgiving Classic by placing 3rd overall in the tournament. The team started off strong, as they blew out Urban Prep, 79-46. Senior big man Miki Ljuboja dropped 30 points, while Damonta Henry also chipped in with 16. In the Bulldogs second game they came up short against Nequa Valley. The Bulldogs were in the game throughout, but they couldn't seem to get over the hump and after a late outburst by Nequa the Bulldogs went down big and eventually fell 72-55 to the Wildcats.
In the Dogs' third game, they beat Rich Central 68-61, lead by Ljuboja with 19 points and 9 rebounds, and Will Kincanon who had 11 points, 8 rebounds and 6 assists. In the team's fourth and final game of the tournament they suffered a tough 71-68 loss to Brother Rice. The Dogs had a great start, beginning the game on a 10-0 run, and it was a see-saw battle throughout. The Bulldogs had one last 3-point opportunity at the buzzer, but it was off the mark.
After the disappointing finish in the Thanksgiving tournament, the Bulldogs bounced back on Friday with a dominant 73-39 blowout win against conference foe Fenton. The next night the Bulldogs traveled to LT. The Dogs came out flat, and were trying to recover the rest of the game. The team was down by 20 at one point in the game, where they eventually cut the deficit down to five but poor free throw shooting throughout prevented the Bulldogs from overcoming the huge margin. The Bulldogs shot a lousy 45% from the stripe. That is unacceptable for any team, especially for a team that prides themselves in shooting. On top of that, the Dogs were out rebounded throughout.
"I think we just got to work harder this week, you know work harder on defense, getting through screens, and contesting shots. We need to crash the boards more, and focus on the hustle aspect of the game," said senior guard Jack Gibson.
With all of that being said, the Bulldogs are still in pretty good shape, sitting atop the Metro-Suburban conference with a 1-0 record. Although they are only 3-3 overall, it's still early on in the season and they still have plenty of time to work out the kinks.