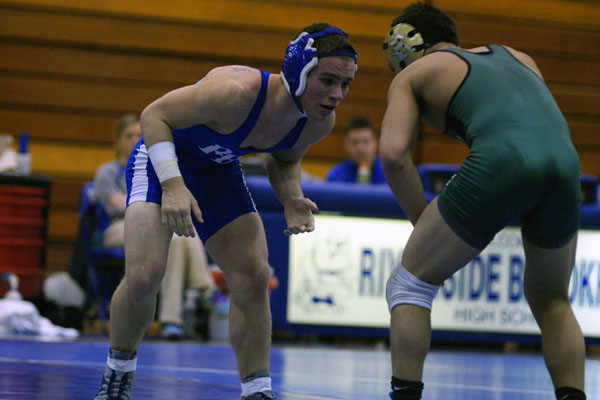 Coming off of a solid 2011-12 campaign, the boy's wrestling team appears to be in great shape to come to prominence and establish itself as a strong program within the Metro Suburban Conference. The Bulldogs are coming off a season where they had two wrestlers compete at Sectionals, including current sophomore Lou Grigoletti, with several more looking to earn a berth this season.
The team will be missing one of its best wrestlers over the past few years, as senior Joe Odeh will not be able to wrestle this season. Odeh, a star wide receiver and punter on the football team, broke his arm during the season which will keep him from competing.
Grigoletti, only a sophomore, placed 3rd in his weight class last season at the Regional Championship, although he was not able to advance past Sectionals, as he faced many experienced wrestlers who had been in the sport for years. After a year of quality experience and time to grow, the now 15 year old is looking to bring home the Sectional Championship. Grigoletti is expected by many to make the jump to become an elite wrestler, but it appears that no one has bigger expectations than himself.
"This year I want to make it back to sectionals with more moves and experience to go farther than I already have. And I want to be better conditioned than who I face," said Grigoletti.
As of late, wrestling has been a sport at RB that many football players have used to stay in shape during the winter. This may be the case, but hard-nosed junior Zach Greenwell, who starts on the football team, is also looking to maul people on the mats.
"My goal is become much more comfortable in the 220 weight class, while getting a lot stronger. I also see our team doing very well at Regionals," said Greenwell.
Seniors Dan Russell and Vince Zaccagnini, who are coming off of solid season's, return this year and are expected to make large contributions throughout the season.
The Bulldogs have performed well early on in the season. After a tough loss to always competitive Morton, the boys beat Larkin, Hampshire, and Dixon in the Jacobs Mega Duels this past Saturday. The next meet is this Saturday at home where the Dogs will host the RB Quad Meet.