Bulldogs, not underdogs. Wrestlers roll to Sectionals.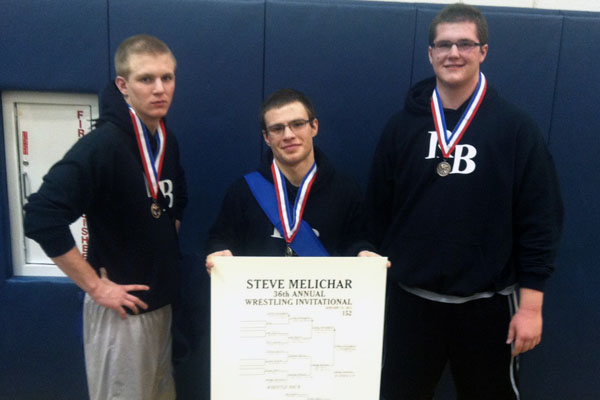 As most winter sports are beginning to wind down and wrap up their seasons, the boys wrestling team appears to be just getting starting. After several dominating performances during the regular season, the Dogs entered the regional tournament flying high.
With several starters sitting out the final meet against Elmwood Park due to injuries, the Bulldogs were content with the results as the Regional meet later on that week had much greater implications. Despite being short handed, they took care of business against a struggling Tigers squad and capped off the meet with a convincing 42-18 victory.
The Bulldogs hosted the Regional meet this past Saturday against some of the toughest competition in the area, and without a doubt, held their own. With 13 Bulldogs competing from the crown, 12 of them advanced to the championship round. What is most impressive is that the Bulldogs had six wrestlers who competed for first and secnod place, and captured the Regional championship, a feat that seemed unlikely at the beginning of the year.
Senior Justin Rodriguez, an unsung hero and a excellent addition to an already stacked roster, competed in the 126lb weight class and corralled a 3rd place finish. Rodriguez, also known as "J-Rod", has become one of the Bulldogs most reliable wrestler's, shown by his steady improvement throughout the year.
Sophomore Nick Giurini, an up and coming superstar, found himself in a similar situation when he reached his final match of the day. Giurini faced off against a wrestler from St. Laurence, one who had beaten earlier in the season, and the two were tied heading into the third period. After slowly imposing his will, Giurini buried his opponent and won the championship at 113 lbs.
At 152 lbs, there appears to be no competition for Senior Vinny Zaccagnini who continues to roll the competition as he took the championship with ease. Zaccagnini, along with 7 other Bulldogs, will be competing this Friday and Saturday at Rich East in the Individual Sectional meet. On February 19th, the Bulldogs face off against Bowan, the CPS city champs, in the Sectional team meet.