Loss to Conant in basketball playoffs has boys looking to next year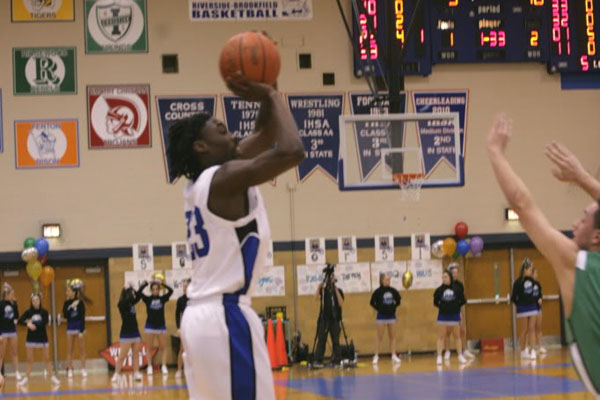 Thursday, February 28, the Bulldog boys' basketball season came to an end as they fell to Conant in the Regionals of the state playoffs. The game was a see-saw battle throughout, but in the end, Conant got the better of the Bulldogs and went on to win 67-61.
Although the Conant game was a dissapointing way to end the season, the Bulldogs have a lot to be proud of after what was a very succesful season. The Bulldogs finished the season with an overall record of 21-7 and a conference record of 11-1, en route to their 12th straight conference title.
Miki Ljuboja added to his illustrious Riverside Brookfield career by being named the conference's most valuable player.  In addition to his MVP award, Ljuboja, along with Damonta Henry and Liam Lesniak, was named to the All-Conference team.
Although this season didn't live up to its incredible hype, the future is certainly looking bright for RB's basketball program. The team has another great group of players returning for their senior seasons, including Jack VandeMerkt, Lewis Rogers and Will Kincanon. Next year's junior class is also chock full of talent, with players like 6'5" sharpshooter Sam Johnson and 6'4"  big man  Paul Sitkiewicz.
With all the future talent RB keeps on funeling in year after year, the Bulldogs will be a force to be reckoned with for the forseeable future.