2-7 start is tough medicine for Girls' Soccer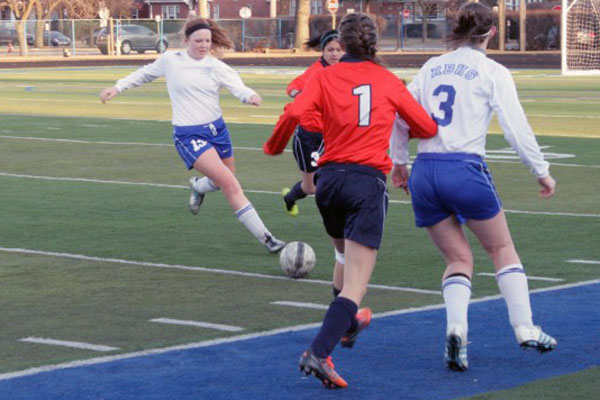 The girl's varsity soccer team appears to have an exciting season ahead of them, featuring a completely revamped roster. The girls are without some of their best players from last year's team, including Danielle Sanchez, Alleigh Vandemerkt, and Madison Powers.
This year's squad will include a variety of players, including a few talented freshmen, sophomores, juniors, and some remaining seniors. The Bulldogs first test was home to Lake Park with a classic winter wonderland setting, as a heavy snow storm rained down the start of the second half. At that point, the referee said the wintery conditions were too much, and the game was called at 10 minutes into the second half with the Bulldogs trailing 4-0.
This has not been the best of starts for the Lady Bulldogs, but they are still be looking to improve. Both, assistant and head coach Ivek Halic and Danny Makaric were not pleased with the results as they have high expectations for the young team.
"Ask the assistant coach about the game, as I would be too critical on the girls for their performance," said a frustrated coach Makaric.
Assistant coach Ivek Halic was more positive about the match and understood the lack of the energy the girls had. A majority of the team contributed to the lengthy indoor soccer season for coach Makaric's club team, SC Chicago Inter. Some of the girls were going without a break from soccer for over six months.
"It's going well, but there's still a lot of progress to be made. The girls are working hard and putting forth the effort," said coach Halic.
The girl's next game was against Oak Park River Forest, and the result was not much better, as OPRF bested RB by a score of 5-0.
"The other team gave us a good lecture, scoring three goals in the first 15 minutes," said Makaric. The girls tightened up defensively, and were able to hold the Huskies to two goals in the second half. The defense played well, but the midfield and strikers were not linking up which made it very difficult for the Bulldogs to get on the board.
"Conference is our main goal this season, but we're going to take this season game by game," said Halic.
While the team has struggled mightily, losing seven of its first nine games, they do look to get back on track tomorrow against Iliana Christian.