PREVIEW: Boys Basketball shoots for 11th straight title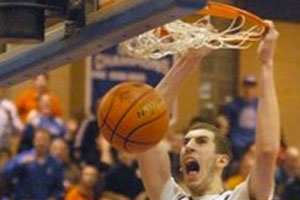 Coming off of a 23-6 campaign and their second straight regional championship, the Boy's varsity basketball team has extremely high expectations and is the odds on favorite to win their 11th straight Conference title.
 Tom McCloskey returns for his 16th season as the head coach of the boys' varsity squad, looking to continue an excellent tradition of winning at the school. As the head coach of RB, McCloskey has won 70% of his games overall, with a winning percentage of 89% in conference games. McCloskey looks to add to this mark this upcoming season.
The team will take a big hit with the losses of former center Alex Dziagwa, and guard Ryan Jackson who averaged 25.2 points a game. Both are playing college basketball this year, at Augustana and Lewis University respectively. Senior forwards Chris Duplancich and Louis Marino will be expected to make the jump into the starting lineup and contribute in a big way.
Also, a strong junior class, who won the conference title as sophomores, will be expected to emerge as key contributors on the bench. One such contributor, 5'11'' guard Hunter Claire, will add a needed toughness and grittiness on defense. Claire will look to improve on a strong sophomore campaign and carry that success to the varsity level.
"I really want to improve my shooting, get my three to fall on a consistent basis, and be able to handle pressure when dribbling the ball," said Claire.
The biggest question mark coming into the season is who will take on the bulk of the scoring now that Jackson has graduated. The scoring is most likely going to come from Junior Damonta Henry, a combo guard, who's capable of doing multiple things on the court. He's lightning quick and can get into the paint with ease, but he has the leaping ability to rebound with the best of them. It'll be interesting to see if he can step up and lead the Bulldogs to a conference title.
The Bulldogs open their season with the annual Thanksgiving Tournament in December. The Bulldogs will also compete in the Derrick Rose Shootout against Farragut. Then, the conference schedule begins where Dogs look to take control early, and bring home yet another title.