PREVIEW: Castle, Copp, Demuro and Lazzara headline for Boys Swimming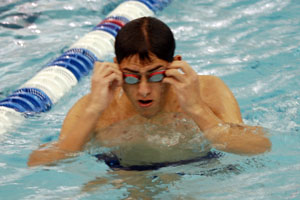 The boys swim season has kicked off and Coach Todd Fridrych has high hopes.  As the boys prepare for the season, they are trying to make up for the loss of last year's swimmers. Fitz Robling and Kyle Miller led the team to big wins last year, almost always placing in the top 6th of their races.  With key swimmers missing, there are also key swimmers returning.  The key returners for this year's boys swim team include, Seniors Ken Castle, John Copp, Sean Demuro and Nick Lazzara.  Other key returners are Juniors Luke Keller and Dan Sommers. 
 Fridrych said, "I expect the best time out of every swimmer and to be conference champions."
Timing is crucial in swimming, and this season the team's goal is to drop times and send swimmers to state.  The boys swim team will be working extra hard in practice to focus on dropping their times. 
Lazzara, a senior at RB, has been swimming for four years.  His individual goal is to drop his time and do well at sectionals.  Lazzara got into swimming through his brother who was on the swim team for four years as well. 
Lazzara said, "I'm excited for this year.  We're going to do a lot better."
Copp has been swimming for ten years.  Copp first joined swimming to get "swoll". His goal for this season is to qualify for state.  Last year, Copp excelled in sectionals and qualified for state. Compared to last season, Copp thinks that the boys are going to do a lot better than before.
Lazzara said, "My favorite part of swimming is how well the team bonds."
Teamwork is important; having a supportive team lessens the pressure mentally and physically brought upon the swimmers.
Copp said, "I like meeting new people."
The boys began practice in the mornings on Monday, Wednesday, and Friday and after school every day, constantly working towards their goals individually and as a team.