PREVIEW: Cheerleading looks to get back into the top ten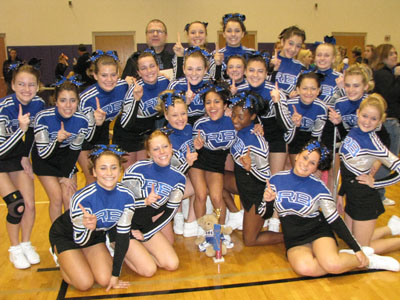 Cheerleading started out its season right, coming in first place in the Wilmington invite, defeating Oak Forest and Yorkville. They won wearing their new uniforms. This year's cheer team has eight seniors which gives them an advantage over other teams with a lot of experience between all of them.
 The captains of the squad are Rachel Konopacz and Marika Floros. Floros commented that the season is looking good because they already won the first competition. Both Floros and Konopacz said, " The season is looking good because we won our first tournament.
Two years ago the cheerleading team placed second at state and have been placing top ten down state every year until last year they got eleventh place in state. When asked why she cheers Konopacz laughed and said," I grew up doing it."
 Both sophomore Hayden Claire and Floros said, "we like the bonds that we've with teammates throughout the season."
The Cheer has a competition at Sandburg this Sunday. They will be competing against arch rivals Lemont who beat them at state two years ago. The other teams that will be good competition are Prairie Ridge and St. Vidor these teams will be good competition for the girls as they prepare to go down state to cheer.
When asked what makes her keep cheering throughout all the seasons, Konopacz said," I love doing cheer because the competitions and cheering at the basketball games are so much fun."
The Pupettes season also starts in around two weeks and they are ready to start the season. Captain Meredyth DiVittorio said, "that the season is looking good and that they are looking forward to dancing during the basketball games."