Girls cross country eyes conference title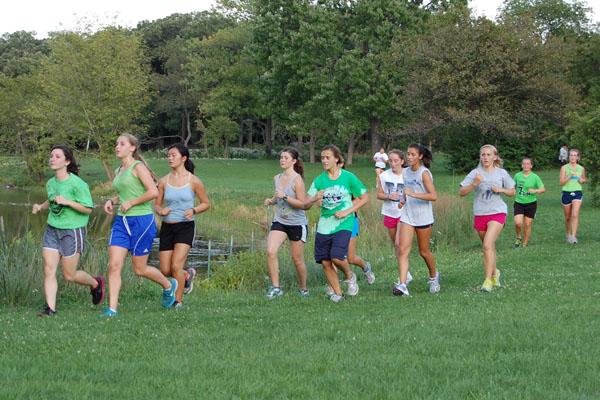 Led by many key returning contributors from last year's squad, the girls cross country team is sprinting into the 2012 campaign with high expectations. Senior Elise Castelaz and Junior Clare Bollnow will be taking on leadership roles this year as they were named team captains early on in the season. Kristi Sterling, who has been a part of the cross country program since 2005, will once again take the reins as head coach.
The girls have been practicing extremely hard every day in preparation for their first meet of the season, which came on Tuesday, August 28th, at the Sycamore Invite. The girls impressed assistant coach Brennan Denny who thought the meet went well.
"It was a promising start. It was really hot which made things a bit difficult for our girls. They showed a ton of perseverance to push through their races," said Denny.
At the invite, the Bulldogs performed extremely well against some of the top talent in the area. On the varsity level, Bollnow finished 17th overall in her race, which earned her a medal. The junior varsity squad came up big and had two runners place in the top 25 to earn medals. Vallory Gaborik and Castelaz finished 12th and 25th respectively.
Coach Denny expects big things from his girls this year as they have an extremely talented squad full of many veteran returners, along with a few underclassmen that have promising futures. Seniors Alma Rodriguez and Danielle Ulloa are solid runners that have been in the program for a few years now. Sophomore DeeDee Keen, although young, is going to be looked upon to perform well throughout this season, and in the years to come as the coaching staff sees great potential for her.
"We look to be competitive at the conference meet; that's the goal. From the onset, our goal has been to win conference and compete with Glenbard South. We understand that they are returning many of their runners from last year's team," said Denny.
The Bulldogs will be hosting the RB Invite at Sundown Meadows on Friday, September 7th. RB and Glenbard South are expected to be fighting for the conference title all season long. It appears as if the Bulldogs have an exciting season ahead of them.