After last year's heartbreaker, Boys Soccer hopes are up in 2012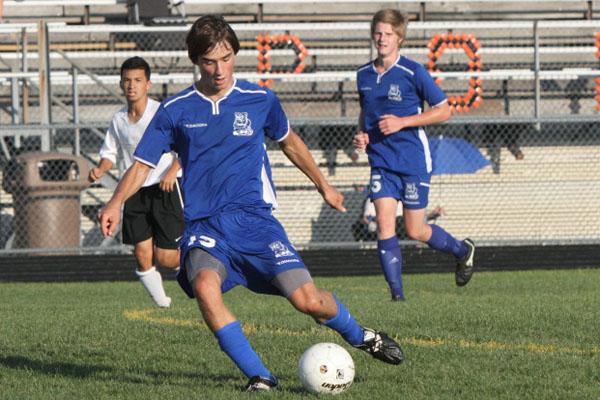 With the Boy's Soccer season in full swing, the Bulldogs are showing signs of a very promising season. Although last year's team lost to St. Joseph's in a heartbreaker in the Regional Championship, expectations this season are high. "We'd like to win our conference championship outright and make it to the Sectional Championship," said Senior Midfielder Tom Leary.Head Coach Danny Makaric's Bulldogs have had a schedule featuring many quality opponents to prepare themselves for such high goals.
They kicked off the new season on August 21st against a highly touted Oak Park River Forest team, losing a tough battle 1-0. The team really felt the loss of their record goal scorer and graduated senior Ruben Chavez as they had a difficult time trying to score against a stingy Huskies defense.
On August 23rd the Bulldogs hosted their first home game at Shuey Stadium against Larkin. Junior midfielder Santi Beltran's first minute goal put the Bulldogs on the right track, but a Larkin goal and a controversial penalty kick gave Larkin a 2-1 lead at halftime. The Bulldogs tied the game at 2 with a skillful header from junior midfielder Quentin Dreilich, but it wasn't enough as Larkin's late goal gave the Royals the 3-2 victory.
Other contests included a 2-0 shutout loss to Leyden, and  a 1-1 draw against Plainfield East where Dreilich was the lone scorer. The Bulldogs were due for a victory and it came on August 28th against a stellar East Aurora squad. Leary's early penalty gave the Bulldogs a 1-0 lead and the score stayed that way due to a heroic effort from senior goalkeeper Jimmy Rock. The Dogs then lost 3-2 to Minooka with Dreilich and Senior forward Eddie Marentes scoring. On September 1st, the team came ready to play when they demolished Plainfield North with a score of 5-0. Beltran tallied two goals while Junior Joe Aieta, Dreilich, and Leary all contributed with a goal. The last game before kicking off their non-conference schedule came when the team beat Fenwick's JV squad 5-1. Junior Forward Ivan Zrantchev scored twice, Beltran, Dreilich, and Junior defender Jerry Losos added goals.
Although the Bulldogs have shown weaknesses this year, the team is still looking forward to a quality season.
"I think we are pretty good this year, maybe even better than last year. The start of the season is always difficult because we always play big schools and many ranked teams," said Leary. "We are still looking for that staple in the offense like Ruben last year but for now we are doing just fine."
As the Bulldogs kick off their conference schedule, they expect to see many more games in the win column.