SPORTS RECAP: Girls volleyball loses at Regionals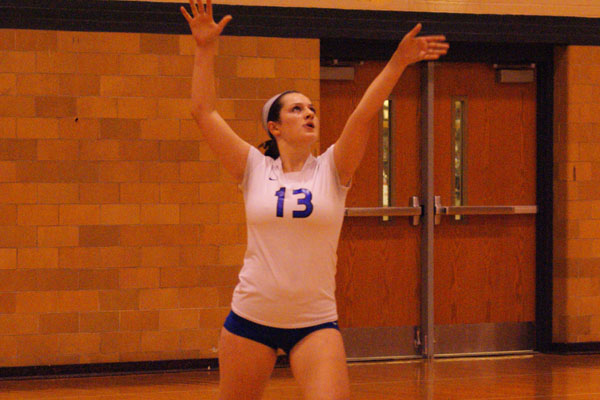 As the fall sports season comes to a conclusion, the girl's volleyball team ended the campaign on a sour note. The Bulldogs lost to the Lemont Indians on October 25th in their regional game. The Indians defeated the Bulldogs in two sets, with scores of 25-21 and 25-14.
"Where we went wrong was probably our passing, it wasn't as crisp as it usually is. We have to give Lemont a ton of credit though, they played a great game," said Senior Elena Duve.
The loss to Lemont was disappointing because of all the expectations coming into the season. The girls concluded the season with a 21-14 record, including a 7-5 mark in conference. The loss concludes a season full of memories that include Senior Night against Illiana Christian and the Volley for the Cure game which raised over $5,000.
Senior Night was somewhat disappointing because the girls lost in two sets to a strong Viking team from Illiana Christian. The loss didn't dim the night though; RB celebrated the storied careers of all the seniors including Meghan Orgler, Elena Duve, and Alleigh Vandemerkt.
Coach Dan Bonarigo will be losing the bulk of his starting lineup next year, but with the emergence of junior Lizzie Hawk at setter and a strong sophomore class coming in, expectations will be high next season. Amy Frey and Natalie Gardiner will be making the jump to the Varsity squad next year, and are expected to contribute in a big way.
All in all, the girls had a successful season with many highlights along the way. It seems as if the program is heading in the right direction with a great coaching staff and a strong class of freshman and sophomores coming to the forefront next year.
Here are some stats from the season:
Elena Duve: 180 kills, 28 aces, 170 digs, and 8 blocks
Alleigh Vandemerkt: 78 kills, 287 assists, 31 aces, 183 digs, and 11 blocks
Meghan Orgler: 109 kills, 15 aces, 37 digs, and 17 blocks.
Lizzie Hawk: 320 assists, 66 aces, and 147 digs