Students make their own "slow" fast food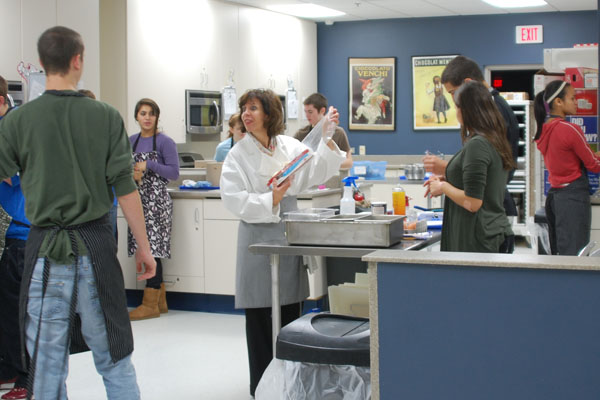 On November 9th and 10th, English teacher Cherise Lopez's third period American Literature class wasn't in their normal classroom. Instead they were in the foods lab, making their own Egg McMuffins.
This activity was designed to show students how cooking their own food can be easy and healthier than buying fast food.  It didn't come out of nowhere, though; the class had been thinking about their food choices for a few weeks.
"They read Omnivore's Dilemma, and they can make it applicable to their own lives," said Lopez about the project.
Omnivore's Dilemma was a book, previously taught to SEE team, which looks closely at how food choices affect the environment, not just personal health.  As a part of that, last year's SEE team went down to the foods lab to experiment with making healthier and more environmentally friendly fast food substitutes.
"I think the objective (of the non SEE team students) was the same because it was the same book," said Patty Farlee, the Applied Arts teacher who showed the students how to use the foods lab. She added, "This is just a little sampling versus SEE team because they could expand on it more. This is just one unit."
Overall, the project was enjoyed by students and teachers alike.
"I think it's fun. It's a cool experience to make your own healthier food," said junior Shannon O'Connell.
"I'd already known how to cook, but it's nice to know how to cook different stuff," said junior Kevin Barney.
"I would attempt to make this at home," junior Brittney JnoBaptiste said.
 "Overall I'm happy with how it came out.  I look forward to reading (the students') reflections," said Lopez.
The project is part of a larger sustainability arc that Lopez has been integrating into her classes. She tries to teach students how to connect sustainability ideas to the books they read in class, and how authors have written about the relationship between people and nature and how that connects to the students.
"It's not just about the environment," said Lopez. "It's about how can human beings flourish and survive and how can we take control of our own lives."