Mural painting carries on the spirit of a neverending summer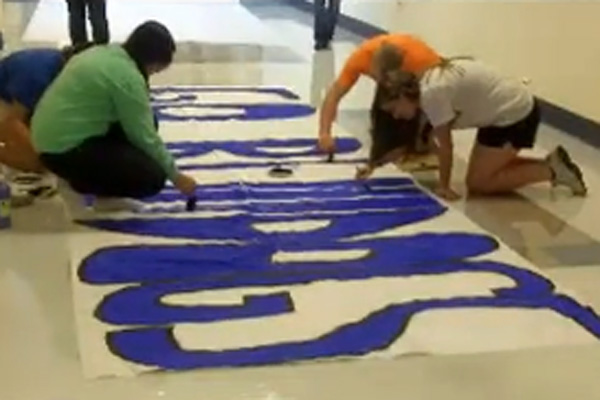 Every Thursday until Homecoming, the Student Association has been gathering in the math hall to paint murals for the dance.  With this year's theme being Neverending Summer, the school is getting ready to be thrown into a beach atmosphere.
SA Executive Board member Emma Veon said, "[This year's mural painting has] one of the best show up rates."
Being ahead of schedule has allowed SA board members to keep a positive attitude about their progress.
"We will definitely be done, with three more weeks," said Executive Board member Abigail Louthen.
Junior Amy Zyck, who has been helping with the murals, said, "It is going well.  This year is not as stressful."
Advance preparation has been a key for staying on track with the murals.
"Having a signup sheet ahead of time helped," Louthen said.
Thursday mornings are not just busy with seniors, but with freshmen as well. What really got SA members excited was that, in comparison to last year, almost 10 to 15 boys showed up to help instead of about three, since it is more common for the girls to show up and help instead.
"I like it," said freshmen Grace Watylyk, who along with Morgan Kraus, has gone to every Thursday morning painting session so far.
According to the participants, the work is rewarding, both for the social interaction and the art.
"Painting is the best part," said Zyck.
Thursday mornings are a time when students can show their artistic side and see their participation through colors. The paintings they are making consist of palm trees, surf boards, sand, and a lot of Bulldog pride. By showing up and helping out with school events, these students are showing they are happy to be a part of the RB community. Based on the turn out rate and the amount of work getting done, it looks like homecoming will be a success for the Student Association this year.
Hopefully with this "fun and exciting theme," said Veon, homecoming will be a blast for all of those who participate.