Blog Undefined: SEE Team inspired by End Zone Garden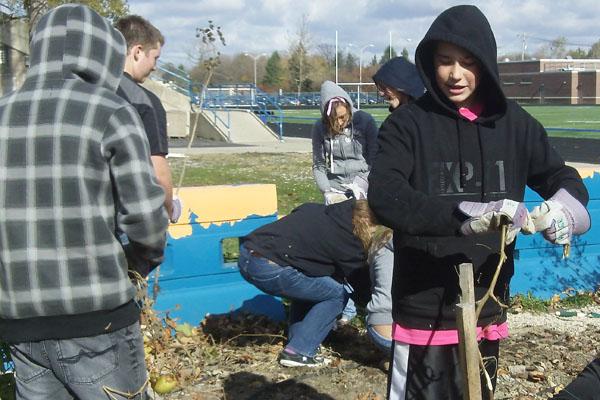 Definition #3
Garden
(According to Mr. Webster)
1. Planted area of ground: a plot of ground where plants such as fruits, vegetables, or flowers are grown
2. Park: a park or recreational area for the public, generally planted with flowers, bushes, and trees (often used in the plural)
3. Farming region: a fertile well-cultivated region
4. Outdoor eating and drinking establishment: an eating or drinking establishment that serves its patrons outdoors
I've never been a huge gardener of any sort. My mom used to plant flowers in front of our house, but that wasn't much. One of my friends had a vegetable/ fruit garden and we elected ourselves the taste testers, which was, in our minds, the most important job out there.
Now this is relevant because, if you don't know, RB has a garden. It's in the same place as they have a football field. The same place where tons of people come, yell, watch, laugh, socialize, and become rowdy.  Not exactly where you would imagine such a green element of life. That's why it's nicknamed "The End Zone Garden."
In a little section surrounded by blockades to protect the plants from any harm, there is a simple serenity.  Well, there was.  Now it's dying down and we SEE Teamers helped prepare it for the next growing season.  I went down there in late October, the chilly wind nearly blowing me away, my hands barely able to press play on my camera.  Still, through the experience, I saw how amazingly comfortable our SEE Team has become with one another.  While we cleaned up the garden, we also were having tomato battles.  In the end, we wanted to clean up the garden so that another class of SEE Team students could plant garlic in the soil for next season.
The garden started as an idea inspired by sophomore students, probably relatively interested in the environment. Fortunately one of their teachers, Kathleen Harsy jumped on board and made it what it is today. It actually has taken quite a bit of work to get it where it is now, functional and naturally attractive to the eye. This season, the garden produced vegetables and herbs that were used in our very own lunchroom.
Now I'm not usually into supporting much, but I find this great. It's healthy for not just us but for Mother Nature.  The garden has given SEE Team students and others the ability to be more aware of their environment and ways to help it.
I hope that people, whether they be SEE Teamers or not, will continue helping the End Zone Garden grow and continue inspiring other environmental ideas as well.
As Always,
Alexia