Do you still want to go to college?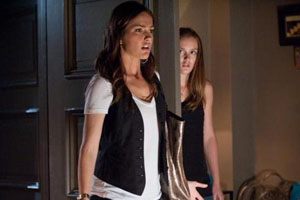 It's the second semester of the school year and many seniors are looking forward to attending a university in the fall. Movie director Christian E. Christiansen decided to take this excitement and turn it into a fear that will have many seniors shaking in their boots.
The movie "The Roommate" was about a girl who moves into her college dorm. Her experience starts off like a normal college freshman's life would be. She attends frat parties, meets new friends, and tries bonding with her new roommate.
As time progresses, Sara (Minka Kelly), begins to feel suffocated by her roommate Rebecca (Leighton Meester).  Every time Sara leaves the dorm room, Rebecca becomes a nervous wreck. She is always calling to check up on Sara and trying to makes plans with her. "She just wants to be [Sara's] friend!"
The movie was very suspenseful, but avoid the trailers, which give the ending away. Seeing them, you realized what was going to happen between the two roommates. It left nothing up to the imagination.
Other than the ending being ruined, the movie was better than most thriller movies. There was no corny acting and it wasn't all just about a girl feeling scared. It had depth and a legitimate plot. Some parts were very exciting and flew by, while other scenes were very long and drawn out.
"2000 colleges. 8 million roommates. Which one will you get?"