I do know how she does it!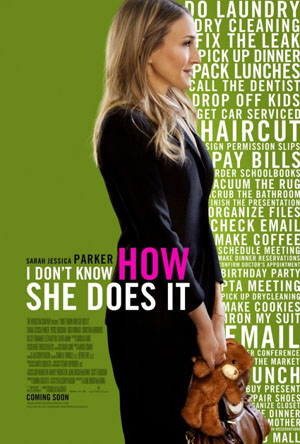 I Don't Know How She Does It, directed by Douglas McGarth, is based on a London-set, award-winning novel by Allison Pearson.  Kate Reddy (Sarah Jessica Parker) is a Boston based, hard-working mother of two. 
Kate realizes how much she is missing out.  Greg Kinnear dominates in the role of Kate's husband Richard Reddy.  You couldn't have put a more perfect pair of actors and actresses together to create the perfect couple. 
 How perfect is the couple though? Are they actually the complete opposite? Kate and Richard are nowhere near perfect from a relationship standpoint both dealing with jobs and always on the go, one wonders when do they actually have time for each other but that's the issue that affects it all, time.  There is simply not enough time in the daily life of Kate Reddy. 
 Parker does a fantastic job playing her part.  She is the perfect fit of the down to earth type and no other actress could have done it better than Parker herself.  Managing two children, her job, and her marriage this film shows the meaning of the importance of people and how important it is to have a balance in life.
 Although Kate's best friend Allison (Christina Hendricks) contains a small role in the movie, she has a major impact on Kate's life by helping her get through rough situations and tough decisions.  Allison also acts as an outlet for Kate being there in time of need and support.  Allison is someone whom Kate can confide in and get away from her complicated life with once in a while. 
 Kate's nanny Paula (Jessica Szohr) contains a small role in the film.  Paula is a young adult that could be considered irresponsible.  Although she seems to understand Kate's needs for the kids better than anyone, she is the one person Kate trusts to watch after her children.
 Despite having to deal with a family, Kate has to deal with her career as well.  Taking on many responsibilities is something that is required and emphasized throughout the film. If it wasn't for Kate's assistant Momo (Olivio Munn), Kate would never accomplish half the things she does.  Momo is another hard-worker; she lives to work and works to live.  Constantly achieving her life goals, she gets thrown a curve ball that changes her outlook.  She and everyone else learn as the movie goes on.
 With new opportunities comes a new project which means traveling.  You would think that a job that requires traveling, raising two kids with help from a nanny, and trying to make time for your marriage is enough to deal with? You're wrong.  For Kate at least, she has to deal with a flirtatious co-worker which could affect her life in the long run.
 If you're in the mood for a movie that has a lot of meaning behind it I would definitely go see "I Don't Know How She Does It".  The movie also shows Sarah Jessica Parkers humorous side.  A quick witted, simple one liner is all this movie takes to make one laugh. 
I would not recommend this movie to young viewers; it does have a mature side to it.  This movie is also different then Sarah Jessica Parker's other known movies like Sex in the City, Failure to Launch, and Did You Hear About the Morgans?.  I Don't Know How She Does It  shows the realism of motherhood and life itself which differentiates the movie. 
 This movie is hands down a must see.