First episode disappoints, but "It's Always Sunny" has a history of being funny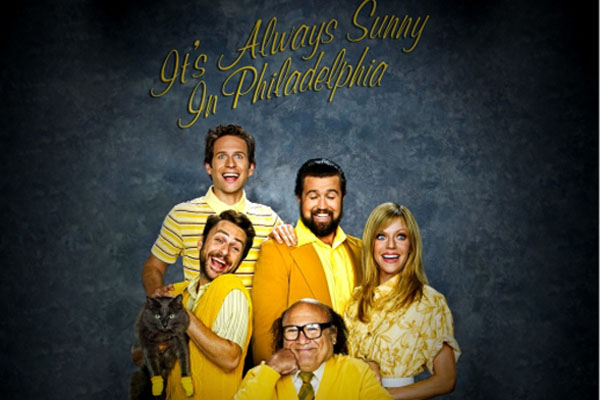 The gang from FX's original comedy series It's Always Sunny in Philadelphia is back again this October for its eighth season, and like always, the gang is ready for more hysterically insane schemes. The returning south Philadelphia pub owners, including Mac (Rob McElhenney), Dennis (Glenn Howerton), Charlie (Charlie Day), Dee (Kaitlin Olson), Frank (Danny Devito), are all set for new adventures ahead of them. Last year the frantic five-some partied down at the Jersey Shore, had a child's beauty pageant, found Frank's long lost brother, endured the storm of the century, played the game of games: Chardee MacDennis, fought their way to see Thunder Gun Express, and relived their high school nightmares at their ten year reunion.
Being an avid viewer of It's Always Sunny, I especially was very excited for the premier of the 8th season. Truthfully, I didn't know what to expect, but I knew it would be good.  However, I feel that the season premiere lacked anything special and was actually quite ordinary. Maybe I had too high of expectations going into it, but still I was left disappointed after  watching what I thought was going to be a phenomenal start to a new season. The episode focused on Dee and Dennis deciding whether or not to pull the plug on their ailing, former Nazi, grandfather "Pop Pop", and Charlie, Mac, and Frank all fighting over "Pop Pop's" belongings. It was funny like every other episode but I felt it they could have done a better job with it.
One thing that I love but also hate about It's Always Sunny is the script, or maybe lack of, that the show airs. I have heard many times before that the show is basically improvised and that is something I really admire about it.  Since improv is one of the most difficult forms of comedy to perform, I definitely have respect for what the show does. That leads me though to what I feel undermines the show a little bit. Every time I see a new episode, I can't believe that the cast is allowed to say what they are even saying.  I often cannot believe that the cast is getting away with their material, but after watching the new season premiere, I have come to the realization that viewers should be numb to the inappropriate material in the show.   The show is hysterical and I recommend it to anyone who enjoys comedy, but I do warn potential viewers when I say that the show's language is borderline insane.  Of course, I mean that in the best way.
The season's premiere may have lacked luster, but without a doubt, I will continue to watch.
The upcoming season promises plenty of new twists and turns that the show has never seen before. This year the gang goes to a much needed therapy session, Frank restarts his old business career, Charlie and Dee possibly find love, and Dee falls inbetween two different worlds as she finds herself falling in love with computer games. This season, more than ever, there will be more arguments, deviation, undermining, and evil scheming, but nevertheless the gang is back and ready to do whatever it takes to plot their way to happiness.