You are going to want to hear the people sing in "Les Mis"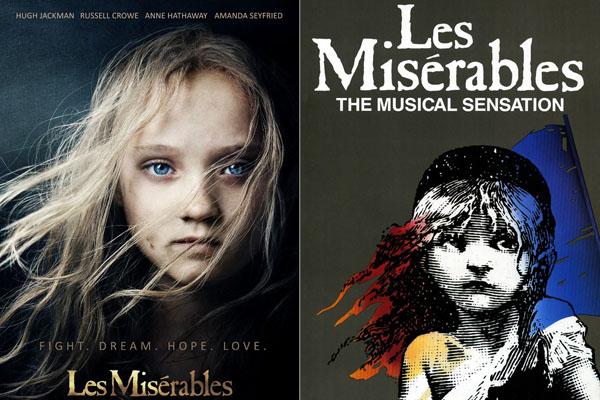 Before I saw it, Les Miserables was just the big movie that I had recently been hearing about nonstop. It was in all the commercials and has been up for essentially every award out there, and quite frankly, I never had any interest in seeing it. The premise sounded bland, but after having the opportunity to see it, I can genuinely say now that any sort of hype for the film is well deserved and then some.  The story's rich history is something that virtually anyone can appreciate, but even setting that aside, the incredible tale of true love overshadows any other facet of the film.
Taking place in mid 19th century France, Les Miserables focuses on the life of prisoner Jean Valjean (Hugh Jackman), who for numerous years has been sought after by the merciless police officer Javert (Russell Crowe). Shortly after breaking his parole , Valjean, in order to seek refuge, agrees to take care of factory worker Fantine's (Anne Hathaway) daughter Cossette. Their meeting seems miniscule but it changes Valjean's life forever.
The film follows Valjean and Cossette's lives after their meeting and reveals the true triumph of love and the human spirit. With not only incredible dialogue but with truly stunning vocals displayed as well, Les Miserables is a film that won't soon be forgotten.
Originally a political novel composed in 1862 by French author Victor Hugo, Les Miserables went on to be one of the, if not the, most popular novels of the entire 19th century. Over a century and a few small movie adaptations later, Les Miserables hit the stage on October 8, 1985 at the Barbican Centre in London, England. From then on for nearly the next three decades, it would go on to be the most famous musical worldwide. The show has been nominated for numerous Tony Awards and subsequently has won numerous awards as well. The show is now known as the third longest running musical and still accumulates much success in its fourth decade being on stage. As for film, there have been adaptations but none like the one the world has been fortunate to have been given this year.
Directed by Tom Hooper (The King's Speech), 2012's Les Miserables is simply a masterpiece. Of course it is easy to say that a movie is fantastic, but with the many complexities that this film encompasses, I sincerely can say that this film was extremely well done. Not only was the plot enthralling but the cast was truly illustrious, playing their roles to a superb level. I had seen bits and pieces of the "Les Mis" adaptation made in 2000 with Liam Neeson and Uma Thurman, but without a shadow of a doubt this film blows the other out of the water. Having had no interest in seeing the movie prior to watching it, I can say it really blew me away. One thing that I admire incredibly about not necessarily the film but the story itself is the fact that it is still so beloved 150 years later. After seeing the movie full through, I can say I it was a three hours well spent.
Besides the incredible story the film reveals, I would say that my favorite quality of the movie was the incredible cast it possessed. I had never really seen Hugh Jackman sing before and in seeing this film, I can say that he is a true Renaissance man. He not only captured the hearts of virtually every audience with his words but also with his voice, and I really admire that about him as not only an actor but a singer as well. Taking on the role of Jean Valjean is difficult enough but to do it with immense success is something to look very highly on of Jackman. Undoubtedly, Jackman was the best on screen during the film.
As for supporting roles, Russell Crowe did a very good job as Javert. I always say whenever you can gain true feelings for a character throughout a film, in this case hatred, the actor must be pretty amazing. Additionally, Hathaway and Amanda Seyfried were both spectacular as Fantine and Cosette. I had never seen Hathaway play such a role and this role in particular really showed me the depths of what she is capable as an actress. Last but not least, Sacha Baron Cohen and Helena Bonham Carter, did an excellent job as the Thenardier's, less than scrupulous innkeepers who cause difficulties for Valjean. Every single person that was cast is the definition of quality and from what they displayed in "Les Mis"  I wouldn't have expected anything less.
My bar for gauging how great the characters in Les Miserables can't really be amazing considering I have nothing to compare them to but I can genuinely say I do know what good acting is and that was made clear in this film. For not being my type of movie, I was pleasantly surprised and can now say I won't object to the musical genre from here on out.
The one thing that "Les Mis" lacked in my opinion was a good ending, but of course for those who have not seen it I won't spoil it. I can't say the ending was entirely bad, because some good comes out of it but nevertheless I was a little let down. Having the story been out for as long as it has been, many knew the ending going into watching and so for me I would say, not knowing the ending made the movie that much better for me. The film already won Best Picture at the Golden Globes and I'm sure it will have the same success at the Academy Awards.
Ultimately, Les Miserables was the definition of a true classic. It encompassed the most important thing a good movie can: the tale of the human spirit, and if a film can do that well, then it is definitely of a high quality.