"Oz" is great, but not quite powerful enough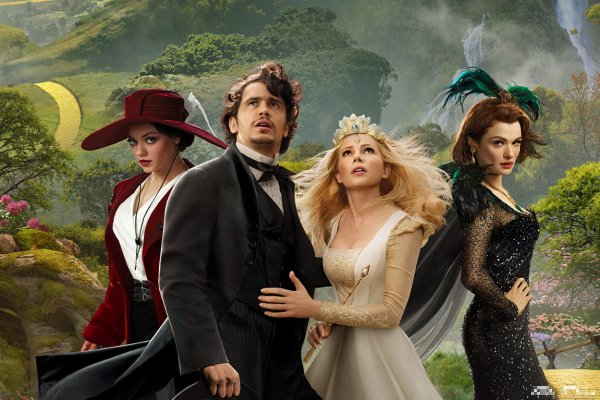 In the times when Technicolor film was the newest breakthrough and Hollywood still went by the name Tinsel Town, movie making was one of America's largest industries. There was an aura to films that gave you a certain feeling that is almost indescribable today. The feeling was a pure one; one that gave you a deeper feeling than what you saw on the big screen. Movies took you to a place you had never been before, and captured your hearts to the fullest extent.
One film in particular that captured the luster of that time is none other than the universally cherished and renowned Wizard of Oz. The instant classic essentially paved the way for film and seventy plus years later it is still larger than life. However, this March, Oz the Great and Powerful was released, a prequel to the film's story. After having seen the movie, I can say that it is above average, but it should be noted that the classics should simply be left alone.
Oz the Great and Powerful, contrary to the Wizard of Oz, focuses on the mischievous illusionist Oscar Diggs (James Franco). A con artist who has aspirations of following in Thomas Edison's footsteps, Diggs always knows on how to enchant audiences with eye catching stunts that, to the naked eye, seem to be magic. However, Diggs finds himself in a sticky situation soon after a rural Kansas circus show and is hounded by a circus strongman, thus throwing him into a hot air balloon and propelling him to be taken away by a tornado.
After defying death in his hot air balloon journey, Diggs finds himself in a mystical land that only the depths of his dreams have seen before, the Land of Oz. Once there, he encounters Theodora, the Witch of the North (Mila Kunis). Theodora explains to Oz (Oscar's nickname) that he is the wizard that their land's prophecy has been seeking. Oz is there to save their sacred land from the evils of the wicked witches.  However, Theodora is not the innocent witch that Diggs believes; that role is filled instead by Glinda the Good, who steps in to help Diggs reclaim the good in himself.
Plagued by self doubt, Diggs is unsure of what he is capable of. He knows that he is not the wizard that everyone had hoped he was, but with enough willpower, and the help of others along the way, defeating the Wicked Witches would not be so impossible after all. Alongside Diggs in his quest to kill the witches includes Finley, his jubilant flying monkey servant (Zach Braff) and China Girl, a little girl made out of china, with larger than life hopes (Joey King). With all of their determination, the improbable along the way becomes probable, and maybe; their plan might just work.
Setting aside the fact that Oz the Great and Powerful is a prequel to one of the best films in movie history, it was still a very well done film in its own respect. There were many qualities of the film that captured my attention, which include the aura the story brought, the special effects, and the cast. Above all, what I loved most about the film was that it almost gave me that feeling that the Wizard of Oz gave me when I was a little kid. That feeling of practically being lost in the story and being taken away for the two hours you're watching the film. Whenever a movie can do that, it is definitely of a high quality. Additionally, the Land of Oz itself really blew me away with the effects and other visual features that were utilized. In the original, the movie was predominantly filmed in a studio, but for its time was incredible in its own right. However, the special effects team of Oz the Great and Powerful  took special effects to a depth that I have never seen before. The Emerald City as well as the Munchkin City looked miraculous, and it was all due to the special effects that were applied.
Lastly, what I enjoyed most about the film was the eclectic cast it encompassed. Although I think the film was cast a little strangely, I still think each person in their respective role did a very commendable job. Some shined brighter than others but then again the same goes for any movie. For starters, James Franco did an astounding job as Oz. Franco (127 Hours/Spiderman Trilogy), truly took on the role and made it his own. In The Wizard of Oz, Oz is much more timid, whereas Franco portrayed a more conniving man searching for a quick and easy way out of trouble. Despite his somewhat unpleasant qualities that his character reveals though, Franco also did a great job of revealing the respectable qualities that show what kind of a man, Oscar Diggs really is. Overall, Franco was hands down the best character on screen. Next to Franco the best on screen I would have to say was Michelle Williams as Glinda the North. Not only did she accompany in doing what was right (which I always enjoy in a character) but she also played her role perfectly. Lastly, Zach Braff as Finley was comical but nothing amazing and Joey King the same. As for the Wicked Witches, Mila Kunis and Rachel Weisz, they were both average, but certainly nothing to write home about.
Singling out the film alone, I would say it kept me enthralled throughout. At the end of the film I was left wanting to see more, and that is what I always look for in a quality film. Like I explained earlier, it gave me that feeling of being a little kid again, being enchanted by the Land of Oz. It took me back to a place I remember with fond memories, so on a personal level that is why I enjoyed the film as much as I did. However, although I was very fond of what Oz the Great and Powerful had to offer, it still does not compare to the original film at all. Comparing a film to the Wizard of Oz though is simply unfair. I think that the Wizard of Oz will forever be on a level of its own. It paved the way for so much film to follow in its footsteps that I truly don't think any one film could live up to. The caliber of the Wizard of Oz is too vast to top, and with that being said; Oz the Great and Powerful, although very great, was not powerful enough to overcome the superlative classic Wizard of Oz.