COUNTERPOINT: Bad apple but also bad decision on Winter Concert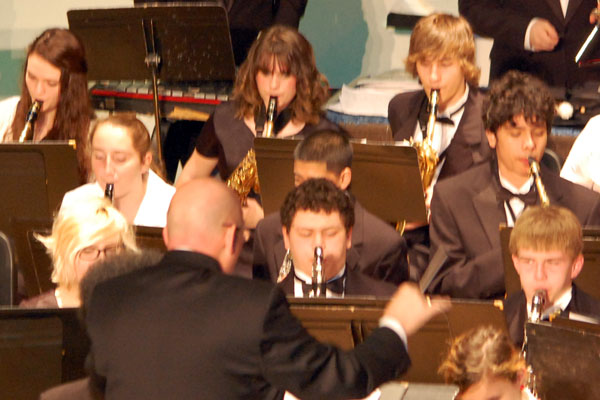 READ RENEE MIEDLAR'S RELATED OPINION COLUMN
There has been a lot of talk over the apple-throwing incident that occurred at the holiday concert on December 4th. During the second hour performance, a student in the audience threw an apple core at the band students. Many people have different opinions on the situation. Personally, I think that it was disrespectful to throw the apple, but I agree with the reasons as to why the students decided to be not as respectful throughout the performance.
I don't think it's the right choice to take students out of their classes to watch a winter performance. Why would the faculty decide to make something fine arts related mandatory? Students aren't obligated to see other performances or extra-curricular activities. Take for example, the basketball games. If students were told they had to sit through the basketball game during a school day, people would think that was also a waste of time. This is exactly my way of thinking when we're told to sit through the Winter Concert.  It doesn't make sense to me that we are forced to sit through an hour-long performance of the music department when we're not forced to do this with other activities.
Also, it's a waste of classroom time, especially since they chose a week that is so close to finals week. Students are already stressed out enough about passing their tests. The result of the performance is shortened periods. Teachers might need that extra couple minutes to go over material. If the holiday performance was after finals when a little bit of the stress would be lifted off, I feel as though the students might not be so against taking time out of their classes.
Although I believe all of these comments I just made, I still think the music department is a great department. It was just not great when we were forced to sit through it and taken away from class time. Students should have the choice whether or not they want to see it. Maybe people shouldn't take it as far as throwing an apple, but in my opinion the Winter Concert was not a great way to spend the day.