SPORTS PREVIEW: What keeps Girls cross country running?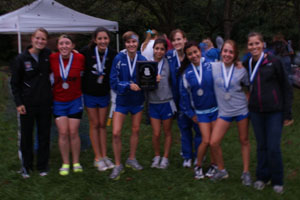 Students around the school look on as the girls run the many miles during their grueling practices. As a new season begins for the girls cross country team, people are wondering, what keeps them running?
Junior Dannielle Ulloa said, "My dad was a runner, so he inspires me to keep running."
Second year Head Coach Kristi Sterling said, "The desire to be successful and to build a strong program."
Sterling was assistant coach for two years before taking on the head role. When asked about how this year is different from last year, she said, "We have more experience on the team." Sterling also said, "We lost an assistant coachm, so it's just me with forty-one girls."
Ulloa, who has been running for RB for two years, said, "Unlike last year, the coach makes us do two practices a day and more speed workouts rather than long distances."
This year the varsity team consists of seven runners:  Maggie McLaughlin, Ulloa, Clare Bollnow, Katy Linhart, Kira Miller, Alma Rodriguez, and Miranda Ryan.
During the week of August 29th, the girls had three meets. The first meet was the Sycamore Invite. Senior Maggie McLaughlin led the team, finishing 13th. The JV team also had many girls finishing in the top 25.
Their next meet, the Tiger Relays at Elmwood Park, was another success. The varsity team ran a co-ed 6 mile relay and finished in 1st place. McLaughlin and Travis Treviso were the top scorers on the team.
On Saturday, the team ran in the Lyons Township Invitational. Varsity finished 7th overall, which was the best the girls have run in Sterling's coaching career at RB.
The freshman team has had a strong start as well. The team took 3rd overall at the LT Invitational and was led by Deanna Keen, Lauren Primer and Fiona Larson.  For the JV team, Juniors Cynthia Gonzalez, Elaine Gaberik and Kelly Glavin had some of the top races.
Ulloa said, "The team goal for this year is to think more positively. My personal goal is to stay on varsity and keep my times up."
Sterling said, "I think we'll be very successful. The last meet was the best in the four years I've coached at RB. Best season ever."