Facing program cut, water polo teams try to stay afloat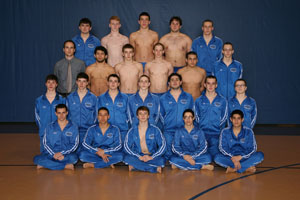 After a disappointing season last year, the Boy's Water Polo team is looking to get on track this spring and make great strides. The team is led by 2nd year head coach Peter Murphy who is looking forward to working with this year's team.
"I'm really excited for the upcoming season, I definitely think we will be improved from last year," said Murphy. He is adamant on the team improving as a unit and developing the skills needed to perform at a high level in practice, in the hope that they will translate to the game.
Led by senior captains Nick Lazarra and Dylan Alarcon and juniors David Kidwell and Dan Somers, the team should be able to overcome the loss of Kyle Miller, who graduated last spring. Miller was the top goal scorer from last season and prided himself on his toughness and offensive prowess. With him gone, it will be the shoulders of Lazarra and Somers to carry most of the load.
After a very successful swim season, Coach Murphy is extremely excited about a group of young freshman who show promise and should contribute to the varsity level immediately.
"We have an enthusiastic group of freshman including Quinn Risley, Kevin Garza, and Anthony Colon who have added a lot to the team already," said Murphy.
It is expected that sophomore goaltender Simon Kritikos keeps his spot in the net after a promising freshman year on the varsity level.
Recently at a Board of Education meeting, Athletic Director put forward a proposal to the Board that included cutting a few sports for next year, water polo being one of them. Coach Murphy is trying to make the best of a tough situation.
"Though I am obviously disappointed with the proposal, I understand the reasoning made behind the decision. In the meantime, I am coaching the players every day as if there will be a season next year," said Coach Murphy.
The Bulldogs open the season with many tough games to start the year, included matchups with New Trier and Fenwick.
Heading into mid March, it is time for the water polo season to begin. The Girls Varsity water polo team, although very young, is looking to compete and play well against some of the best competition .
The girls are led by Juniors Emma Veon and Tessa Sundstrom, along with Veon's younger sister Sidney. These girls are expected to carry a bulk of the load this season.
Coached to Joel Wallace, the team has high expectations and is looking to improve on a day to day basis.
"We are still a fairly young team with a lot of first time players. We are looking to continue to learn from our mistakes and improve each day as individuals and as a team," said Sundstom.
The girls have exciting early season matchups with Marian Catholic, Maine East, and Lane Tech.
Many players like juniors Stephanie Lambruschini are looking to improve on their individual skills this season.
"I would like to become more aggressive and definitely improve my egg beater," said Lambruschini.
The Bulldogs have an exciting season ahead of them with expectations higher than ever