Keen and Bell headline for boys cross country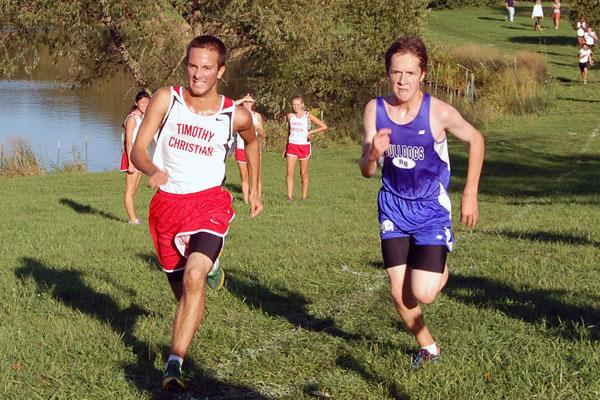 Boys cross country came out strong in their first week of running. On August 29th the Bulldog runners came out on top in the Elmwood Park Relays. On both levels runners showed that they are ready for anything and that they train very hard.
Head coach Larry Forberg returns to the helm with the help of assistant coach and fellow English teach Dan O'Rourke. The two have been coaching boys cross country since 2005.
Returning stars include seniors John Keen and Andrew Bell along with juniors Dan Curtin, Spencer Purcell, and Kevin Faje. Kyle Georgopolous, a junior, is new to cross country this year and is exciting about being part of the team.
"We're pretty strong and we have good runners and a great group of guys who are willing to try their hardest on any level," said Georgopolous when asked about this year's team and their potential.
The Bulldogs participated in the Lyons Invite on September 1st. There was a ton of competition at the meet but the runners were not worried. They just wanted to go out and try and beat their personal records. The freshman runners all improved their times slightly and the varsity runners improved their three mile average time by ten seconds. The Bulldogs are looking ahead to their next race which will be September 9th on their home course at Sundown Meadows.
Junior Ian Clark ran his best three mile time by eight seconds at the Lyons Invite. Clark has shown considerable improvement since last year and the coaches expect him to contribute in a big way this season.
On September 7th at the 53th Annual, RB Cross Country Invitational, the Bulldogs dominated the field en route to a 1st place finish on both levels. In the varsity race, Jeremy Vasquez and and Kevin Faje led the way with 2nd and 4th place finishs respectively.
The Bulldogs look very good early on in the season, but they understand that they have a lot of work to do if they want to compete at the conference meet at Elmwood Park on October 15th.