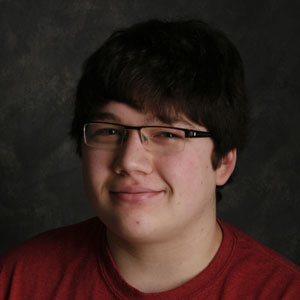 William Voorhees is the newly appointed A&E editor on the Clarion.  When he isn't managing his section, William is a masked vigilante who trys to prevent those awkward moments when two people walk towards each other on the same side of a sidewalk and both try to move out of each other's way.  Even though the local authorities consider him a menace, the majority of the population believes he is a hero who keeps the surrounding community from falling into an awkward disarray.
Currently, William is just a mild mannered senior at Riverside Brookfield High School.  He likes to think of himself as a comedian without any PR or advertising.  He enjoys playing video games, zoology, and hockey.  If you invite him to go see a superhero movie, he cannot decline (unless AquaMan gets a movie).  William is also a senior leader of Anime Club and a member of Eco Club.
William Voorhees can be reached by emailing
[email protected]
.
William Voorhees, A&E Editor
May 22, 2014

Say goodbye to the Clarion seniors

(Story)

May 22, 2014

Clarion 2013-14: Year in Review

(Media)

May 06, 2014

Day of Service features nearly 300 participants

(Media)

Apr 30, 2014

Metal Gear Solid V: Ground Zeroes sneaks its way to the next level.

(Story)

Apr 03, 2014

Editors' Roundtable: Illinois Concealed Carry

(Story)

Apr 02, 2014

Quench your gaming appetite with Don't Starve

(Story)

Jan 14, 2014

Looking back at the Holiday Concert

(Story/Media)

Nov 05, 2013

Unique gymnastics shine at RB's Got Talent

(Story/Media)

Sep 27, 2013

UPDATE: Homecoming court announced

(Media)

Mar 11, 2013

Sly Cooper: Thieves in Time sneaks its way to the top

(Story)

Jan 31, 2013

Zombies may shamble, but the Walking Dead game sprints ahead

(Story)

Nov 19, 2012

'Sleeping Dogs: Nightmare in North Point' is a dream to play

(Story)

Nov 05, 2012

Swing state avalanche means four more years for Obama

(Story)

Oct 29, 2012

Taken 2: Taken…Again

(Story)

Oct 18, 2012

Sasha Kotur wins RB's Got Talent

(Story/Media)

Oct 02, 2012

Does Double Dragon Neon soar to new heights?

(Story)

Sep 07, 2012

When you start playing, you won't let Sleeping Dogs lie

(Story)

Apr 27, 2012

Will your decisions have a Mass(ive) Effect?

(Story)

Dec 01, 2011

Clubs look to boost enrollment at We Are RB

(Story/Media)

Nov 21, 2011

Infamous: Festival of Blood is an electrifying experience

(Story)

Sep 30, 2011

Will you be famous or will you be Infamous?

(Story)

Sep 16, 2011

Surviving the cut

(Story)