Mixed start for girls volleyball team looking to build on last year's promise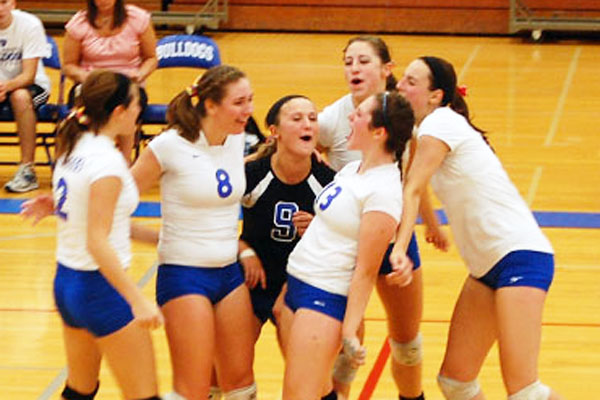 After finishing the 2011 season with 21-14 overall record, their highest win total since 2008, the girls varsity volleyball team has its eyes set on bigger goals. Led by seniors Hannah Claywell, Annabelle Gardiner, Lizzy Hawk, Brittney JnoBaptiste, Emma Schander and Allie Shumowsky, the Lady Bulldogs are looking forward to a shot at a Conference Championship. The team is charged with the difficult task of replacing six seniors from last season's team. Still, the current group seems confident in their ability to step up and take their place.
"I feel like the seniors [from last year] have helped us to become equal to them through practices," said senior Gardiner.
Only time will tell whether or not they are up to the task. The Bulldogs have some tough opponents coming up on the schedule, including multiple match ups against highly touted Timothy Christian and Glenbard South. Another game to mark down on the calendar is the Sept. 28th meeting at home against Oak Park River Forest.
"I think we are all looking forward to [the] OPRF game. It's a big game that we always get excited for. We beat them last year and hopefully we can this year too," said Gardiner.
The Bulldogs started the season off with a tough-luck loss at home against the Roadrunners of Nazareth, losing both games 25-13 and 25-19. Hawk led the effort with a team high nine assists to go along with three kills and seven assists. Gardiner put up a great showing on the defensive end with thirteen digs. Monica Kasper pitched in with six digs and three aces and Shumowsky contributed to the cause with four kills.
The team was able to show their true talent level in their second game with a decisive victory at Elmwood Park, winning both games 25-15 and 25-12. Their next scheduled home game will be on Tuesday, September 11th against Timothy Christian.