Bulldogs look to build on first football win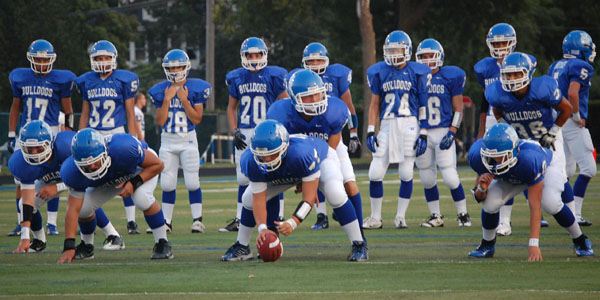 You can finally breathe, Bulldog fans.  The team has finally won their first game in the Curtin era. The Dogs won 34-28 and survived a late scare from the Rebels to improve to 1-0 in conference.  However, the Bulldogs don't have time to celebrate. The Dogs will be in enemy territory this Friday night as they take on Glenbard South. The Raiders head into this weekend's match up with a record of 2-3, including last Friday's 20-19 loss to conference foe, Elmwood Park.
Last week RB got off to a great start in conference play. They really dominated the game. The defense played solidly throughout. Seniors Brad Bednar and Joe Urbanski devastated the Ridgewood offense with 11 and 9 tackles respectively. The offense was explosive, putting up their second biggest point total of the season. Junior quarterback Jack Vandemerkt threw for 231 yards and three touchdowns.  The special teams units played exceptionally. Junior Jonathon Husir recovered a muffed kickoff return, while kicker Santiago Beltran nailed two field goals. The team is going to need another great effort like that, if they want to beat a strong Glenbard South team.
Sophomore running back Adolfo Linares said, "We've got to keep it up for next week, keep moving forward."
Linares had one of the best games of his career, rushing for 125 yards on 30 carries while scoring two touchdowns, one on the ground and one through the air.
"I knew it was a big game, because it was a conference game. I knew I had to step up, since me being a sophomore, I had to show them, (the coaches) that I'm ready for varsity, and I did," said Linares.
The Bulldogs need another big performance, not only from Linares, but from everyone on both sides of the ball, if they want to continue their undefeated conference season.