Girls' badminton starts out strong against Fenton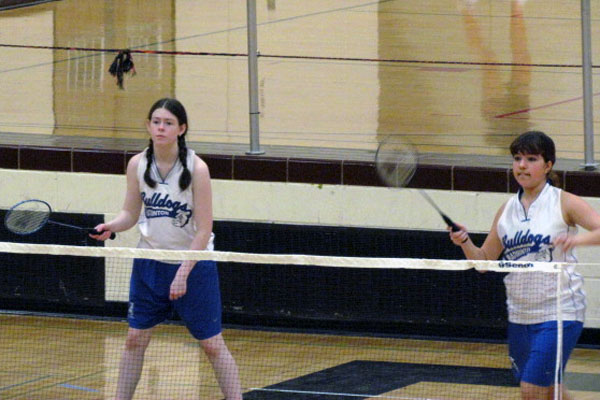 After a loss at the hands of a stacked Sectional tournament last Spring, the Lady Bulldogs badminton team is back at it and looking to avenge a disappointing end to the 2012 campaign. They will have to do it without arguably their two best players from last year's team:  seniors Aneliese Gibson and Lorelei Volpe, who have now graduated. Led by current seniors Adrienne Witek and Victoria Hernandez, along with several promising juniors, this year's team appears to be well on their way towards another deep playoff run.
The bus doesn't stop there; the Bulldogs feature several doubles pairs who competed on the Junior Varsity level last year and who will be called upon to perform if they hope to have continued success. The tandem of Candice Shelbrack and Tessa Murray, along with a trio of juniors, Kelly Haugland, Rebecca Rusiecki, and Laura Pellizari, could see action this Spring.
On Tuesday, the Bulldogs kicked off the season with a dominating performance against conference rival Fenton. The team traveled Bensenville and came home with strong wins on both levels, including a 15-0 shutout for the varsity squad. It's important to not let the satisfaction of a conference victory linger for too long, as the Bulldogs have both the Eagle Invite and the Ram Invite this weekend. These two tournaments appear to be a measuring stick for the Dogs, and could prove to be pivotal early on in the year.