SEASON UPDATE: 49-0 loss to Lemont dims Friday Night Lights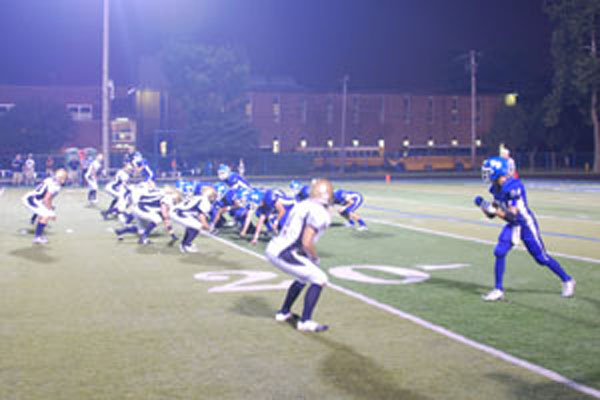 RB played Lemont on Friday, September 2nd, and the home atmosphere was electrifying. The stadium was packed with people.  RB won the coin flip and chose to receive so Lemont would kick off.
On RB's first drive they went four and out. Then RB's defense got on the field.  Little did they know that it was going to be a long day for them.  The RB defense did a good job holding Lemont on their first drive, preventing them from getting a first down. Then Lemont pulled a trick play on RB and did a fake punt for a first down and a big gain. That play put the RB defense on their heels. The Lemont offense ended up scoring their first touchdown of the night on the next play. Lemont also went for two after they scored and were successful.
The RB offense had a rough night, only getting three first downs all night.  They just couldn't get things going. Andy Suzuki made a touchdown saving tackle in the middle of the game, showing off his athleticism and catching the opposing player from behind.
Sadly, this was one of the only good plays for RB on Friday night. They lost this game 49-0.
Last year's Bulldog football team went 4-5. Despite a disappointing game, this year's team looks good and has been practicing hard all summer with 3-a-days.
They also have a lot of chemistry on the football field. Alex Huffhines and Dylan Beketic have been a one-two punch since their sophomore year. Also Nick Callahan and Andy Suzuki have been on varsity since their sophomore year. They have a lot of experience all together.
The RB football record is 0-2 right now but players are looking forward to their next games and trying to put their worries behind them.
The head coach is Jason Rech and he is assisted by Tom Dignan, Marty Sloan, Mike Alberts, Kevin Turk, Mike Marotta, Tim Olson, Todd Koehler, and Dan Wojtulewicz. The volunteer coaches are Ed Lance, Brian Wilms, Noah Wiza, Dominic Senese, Kevin O'Neal, and Jim Lemmler. A couple of the new faces on the RB football team are David Swan, Luke Keller, and Hank O'Neal.
Mark Musial is notably a star on defense, playing three different positions and also acting as one of the captains of the team. Dylan Beketic is the starting quarterback and will be playing all snaps.  Last year, Beketic filled in for graduate David Skowronski, playing half of the game.  2011 Senior Watoris Slater was a key wide receiver for the Bulldogs last year and Alex Huffhines is taking his place at that position. Tyler Radek was the Bulldog's running back and Tyler Floros will be trying to fill in his shoes.  Also gone is Jon Schraidt, a formidable offensive and defensive lineman, and Tim and Will Potts will be trying to fill his shoes. 
The biggest games of the season for RB that haven't happened yet are against Glenbard South, Nazareth, and Fenton.