SPORTS UPDATE: Girls volleyball promotes Volley for the Cure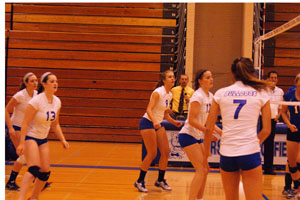 Many families around the nation and even here at RB are affected by breast cancer. This prompted the girls volleyball coach Dan Bonarigo to begin the tradition of the Volley for the Cure game against Morton High School.
Bonarigo said, "I decided to start it because I think it's important for our students to serve the community and it's a girl's team so it's a good event."
Volleyball player, Hannah Claywell said, "It's a really good cause and it's cool the whole community can get involved."
The event was not created by Bonarigo. Many other schools carry on the same tradition.
Bonarigo said, "Volley for the Cure is an event by IHSA in which girls volleyball teams designate one match to raise money and awareness for breast cancer research with Susan G. Komen for the Cure."
Susan G. Komen for the Cure is a breast cancer awareness organization that has become the largest source of nonprofit funds for breast cancer in the world. The organization has many events that help them raise money and awareness. They have raised over $1.9 billion dollars so far. The RBHS girl's volleyball's team profits will go to this outstanding organization.
Bonarigo said, "We sure hope to raise money and awareness. We also hope to honor those family members at RB and outside of RB who had to deal with the effects of breast cancer."
To raise money, the team is selling Volley for the Cure t-shirts. Last year they raised around $5,500. This year they strive to raise an even higher amount.
Bonarigo said, "We decided to sell the t-shirts because that's the easiest way to raise money and people wear the shirts to raise awareness."
Claywell said, "Everybody loves t-shirts, especially when it's for a good cause."
This is the fourth year the team has sponsored this event. The game is Wednesday October 19th.