SPORTS UPDATE: No playoffs for football team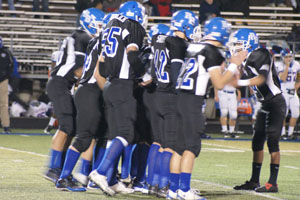 The Bulldogs surprised the RB football fans during the blackout game by wearing black jerseys. They warmed up in front of a crowd that was all wearing black in their normal jerseys and then went into the locker room and changed into the all black uniforms which made the RB crowd to go crazy.  
Every play counted for the Bulldogs two weeks ago when they feel short to the Glenbard South Raiders. They lost all hopes of playing in the playoffs after that loss because they had to win four out of their last games. They had lost to Ridgewood the week before so there is no hope for the bulldogs in the playoffs anymore. They are now playing for pride and to avoid finishing the season with only one win. The Bulldogs are now 2-5 on the season
The Bulldogs started the game out well but ended up in a hole down 18 points in the fourth quarter. Dylan Beketic threw the first TD of the game to wide out Alex Huffhines on the first drive to make the score 7-0. Then RB's defense came out on to the field and gave up a 57 yard touchdown run to the Raiders. After a missed the extra point the score was 7-6 RB. On the next possession Beketic ran the ball in for seven more points for the Bulldogs. Which made the score 14-6 RB again. The score at half was 14-14. The Game just wasn't RBs from then on out. The Bulldogs could not get their offense going from then on out scoring only one touchdown in the second half. Their defense gave up too many big plays in the second half. The defense gave up 25 points in the second half which was too many to get a win.
The team took their anger out on Elmwood Park last Friday by beating the Tigers 28-0.
RB scored first when Dylan Beketic hooked up with Joe Odey for the first touchdown of the night. Then RB went for two and Nick Callahan ran it in to make it 8-0. The defense stayed strong all game not giving up a single point. While the offence was on fire Beketic also hooked up with Huffhines for a second touchdown before the half. The Bulldogs came out with that same mind set in the second half and didn't give the Tigers any chance of coming back. Callahan stuffed the Tigers tailback at the line when it was fourth and goal for the Tigers. Then Beketic led the Bulldogs to a 97 yard drive the longest of the season. The Bulldogs played a great game last Friday.
This week RB plays Nazareth who is 5-1. Nazareth is a very good football team but the win over Elmwood last weekend should boost the Bulldog's confidence going into this game.