SPORTS UPDATE: Homecoming not so celebratory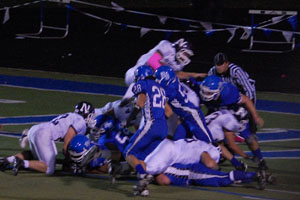 The Bulldogs (2-6) celebrated their homecoming against Nazareth (7-1). The road runners were too much for the Bulldogs to handle though. The Bulldogs had a rough game scoring only one touchdown. The Bulldogs gave it their all but lost 44-6.
Dylan Beketic threw for 102 yards and one touchdown to Joe Odeh. Odeh had 52 yards receiving to go along with his touchdown. Also Bryce Bartlett had 62 yards rushing to help the Bulldogs move the ball down the field.
The Bulldogs defense could not stop the Road Runners rushing attack letting up 5 touchdowns on the ground.
The Bulldogs could not get any momentum on offense or defense the entire game. It was clear that the Bulldogs were not as skilled as the roadrunners from the first quarter to the last.
Nazareth brought their 12th man and it was almost as big as the RB 12th man. The Nazareth 12th man had more to cheer about then the RB team did.  
The Bulldogs could not turn their game around and lost to former head coach Otto Zeman. Zeman is now the Fenton Bison's offensive coordinator.
The Bulldogs received the kick off and had a good drive down the field and could not convert a fourth down play in the red zone. After that drive the Bulldogs offense could not get anything going. They only scored once when Beketic ran a QB sneak for a touchdown but that got called back because of holding on another player on the Bulldogs. The Bulldogs defense played hard but couldn't keep the Bison's out of the end zone giving up 20 points but got no help staying in the game form their offense. The defense had 3 interceptions but the offense could not convert them into points.  
The Bulldogs football season is now over. They had a rocky season going 2-7.