SPORTS RECAP: 4OT loss brings Boys soccer to conclusion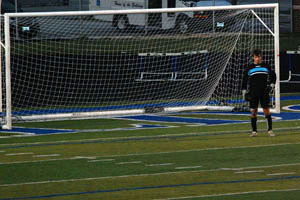 Only a few minutes into the fourth overtime, with the score all tied up at 1 to 1, the Riverside Brookfield Boys' Soccer team ended their season with a loss to St. Joe's.
Senior goal keeper Max Ohle said, "I feel uneasy about it. I don't like to talk about it that much. We played with valor and dignity with unscrupulous amounts of effort. I enjoyed it. But it was truly a disappointment."
Even with the loss, boys' soccer has successfully ended their season 11-8-2. Ohle said, "The season went very well. It started out slow, but it quickly gained pace."
Last year, varsity boys' soccer went all the way to Regionals but unfortunately lost against St. Joe's. This year the team won Regionals and went on to sectionals, but lost in Sectional semi finals when they faced St. Joe's again.
Ending the season suddenly at Sectionals, it was a tough goodbye for the seniors. Ohle said, "It was very emotional. I've been with these guys for years. I've played club soccer with them, and some of them dating back to recreation during grade school. This season I feel like everyone became a lot closer. I will miss [Coach] Danny as well. Over all though, the loss to St. Joe's was bittersweet. It was nice because we had accomplished something, but the season had abruptly ended, which was heartbreaking."