RECAP: Disappointing 2-7 end to football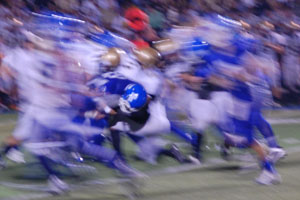 The Bulldogs ended the 2011 football season 2-7. The senior stand out players were Dylan Beketic at quarterback, Alex Huffhines at wide out, Tyler Floros at running back, Chris Duplancich at tight end, Andy Suzuki at linebacker, and Mark Musial at linebacker.
The Bulldogs football team is looking forward to next year because the sophomores were 7-2 overall. The varsity team should have a good season next year. PE Teacher Jason Rech has only been the varsity head coach for one year and has found how much more competitive varsity games are than sophomore games.
Huffhines said that, in order for the team next year to be good, the juniors from the team are going to have to step up because there were a lot of senior starters in the 2011 season. Huffhines also said that this season was not what the team had hoped for. Some of the juniors that are going to have to step up next season include Luke Keller, Brad Bednar, Joe Odeh, and Kevin Garvey.