Girls tennis brings home the medals at RB invite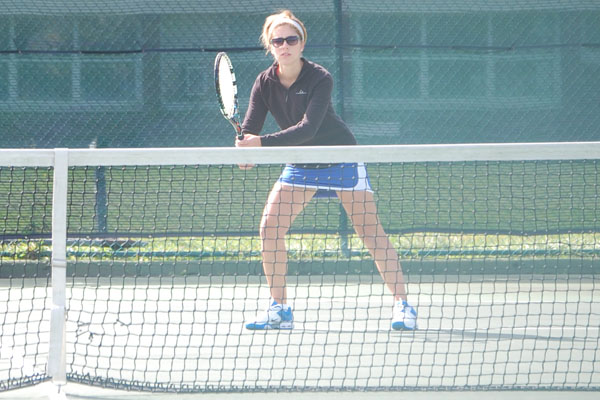 The girl's 2012 tennis team has had a great 2012 season.  Seniors, Sara Benya and Emily O'Connor finished second in first doubles in The Willowbrook Invite.
In the Bulldogs very own RB invite, out of the 10 RB competitors 7 took home first place medals.  Top finishers included Salem Baer, Emily O'Connor, Claire Wilson, Isis Gailindo, Rikki Matous.
Senior doubles player Evan Luna said, "I'm really excited, and we're doing really great so far."
Asked about what the team can do to improve, Junior Claire Wilson said, "Overall, just confidence, and being able to not care who the other school is, and just play better as a team."
The girls have been practicing since summer, working hard at practice every day, so they are really hoping to have put together a great, and there is a lot of optimism.
Girls tennis is a no-cut sport, and coaches are focused on keeping enrollment up.  Part of their focus is on thinking about the future, most importantly the freshman and sophomores within the program.  The team this year worked to build on a solid 2011 season, in which they went 6-2 in head-to-head matches and had a first place finish in the Leyden Invite. The team had 11 returning seniors.
Last week, the varsity team finished up their Conference play with a 4-3 win over Elmwood Park. The Bulldogs took home the first place plaque in the Leyden Invite to continue their great season. With just a few competitions left the Dogs are looking to go out with a bang. The girls have exceeded expectations and look to finish the campaign strong.