Looking for a win, Bulldog football opens conference slate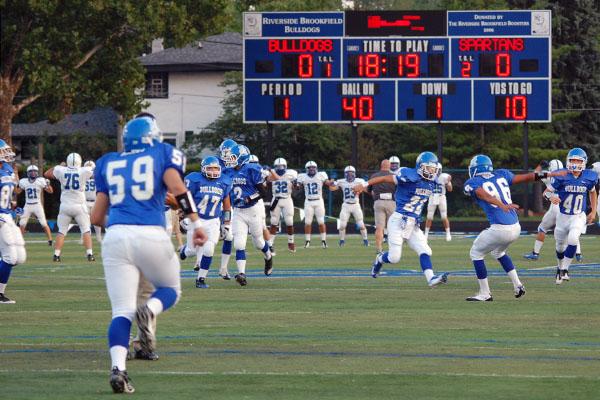 Last week RB fell to 0-4, losing to Rich East 34-13, continuing their disappointing season. This week the Dogs take on the Ridgewood Rebels.
Ridgewood is entering the game with a 1-3 record, coming off of a 42-28 loss to Elmwood Park.  The Bulldogs are searching for their first win of the season against their rival. In the past two meetings the Bulldogs have lost both, including last season's 25-20 heartbreaker at Ridgewood.
The Bulldogs are letting up over 42 point per game, which won't cut it against most teams, even moreso when the offense is only averaging 15 points per game.  This week against the bitter rival Ridgewood, they really need to turn it up a notch. The rivalry between the two teams really escalated last year as trash talk leading up to and throughout the game left some Bulldogs with ill feelings towards the Rebels.
"I'm not a fan of them and we want to shut them up quickly," said senior Mitchell Malloy.
Even though the Bulldogs are trying to avoid an 0-5 start, this is RB's first conference game, so nothing is written in stone. They are looking at the conference schedule as a new season, a fresh start, a clean slate.
Malloy, who caught a 31 yard touchdown catch last week against Rich East said, "This week is our first conference game. We've played some tough teams so far but we know that we need a win this week starting the second half of the season."