Bulldogs lock up MSC soccer crown; look ahead towards playoffs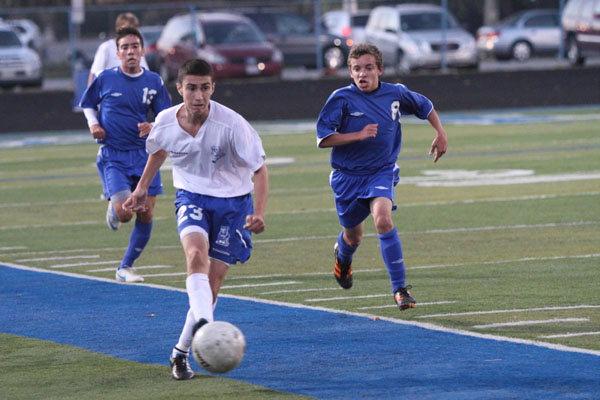 On September 25th, the boy's varsity soccer team went into a game with tremendous implications for the Metro Suburban Conference title against a strong Fenton Bison team. A victory would ensure at least a share of the conference championship.
The Bison started the game off with a goal in the 20th minute but the Bulldogs responded very quickly with a goal in the 35th minute from junior striker Joe Aieta to tie the game going into the half. Fenton again took the lead in the 55th minute with a deflection goal on a very deep free kick. Ten minutes later Aieta was tripped inside of the penalty box giving fellow junior striker Santiago Beltran a chance to tie the game at two from the penalty spot. Beltran drilled the shot past the Bison keeper and the game was surely headed for a fantastic finish. No goals were scored in the rest of regulation which meant the game was going to go to two 10 minute overtime periods. Both defenses did their jobs in the two overtimes and the match was to be decided in penalty kicks. Senior goalkeeper Jimmy Rock came up with two heroic saves and Beltran nailed the game winning penalty to give the Bulldogs their share of the championship.
"This game means a lot towards our aspirations of winning the conference championship. It boosted our morale after a disappointing result (1-1 tie against Proviso West) in our last game," said senior defender Mason Dorsey.   "A win in our last conference game against Glenbard South would definitely help our chances at a strong playoff push."
The Bulldogs did just that on October 2nd when they defeated the Raiders 1-0 off of an early goal from Beltran. The team celebrated their outright conference championship but knew they had bigger goals ahead.
"Our main goal is to string together playoff victories and keep moving on," said senior midfielder and captain Tom Leary.
With the conference championship in hand, the Bulldogs will need to keep moving forward to ensure they meet their ultimate goal.