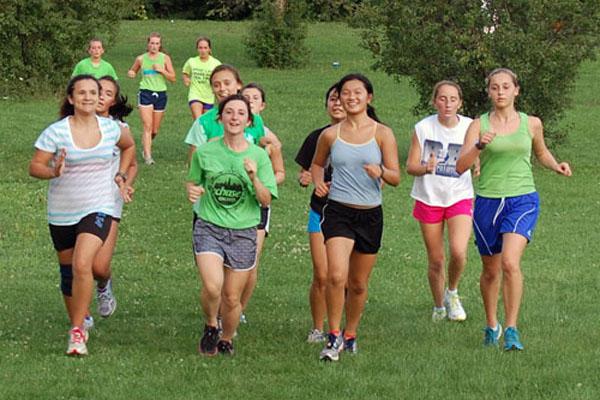 At the beginning of the girls cross country season, expectations were high as ever, and with the return of several key contributors, the Bulldogs were predicted by many to advance far in the postseason and perform well at their meets. The girls have not disappointed as they registered early season 1st place finishes at the Tiger Relays and their very own RB Invite.
On September 7th, the Dogs hosted the 53rd annual RB Invite at Sundown Meadows and they came in with a little extra motivation as they had been edged out two years in a row by their local rivals, Nazareth Academy. Although the course was wet and slippery after it had rained all morning that did not deter the Bulldogs as they came out and had one of their best performances of the season. In the varsity race, four bulldogs finished in the top 10, including Clare Bollnow and Sarah Malone, who finished 2nd and 6th place respectively. In the end, the Bulldogs held off the Roadrunners by a mere five points and captured the victory.
The unquestioned leaders of the team have been seniors Alma Rodriguez and Elise Castelaz, along with junior Clare Bollnow. Rodriguez, who has shown steady improvement over her career at RB, has been crucial to the Bulldogs success.
"My performance has been up and down all year in meets, but I feel like I've improved a lot from my mistakes," said Rodriguez.
After a solid performance at the Conference Meet, seven Bulldogs along with three alternates, headed to home course, Sundown Meadows, as they hosted the IHSA Regionals. Going into the meet, RB and Nazareth were the heavy favorites and were predicted to finish in the top two spots. After jockeying back and forth throughout the meet, the Bulldogs pulled out the victory, finishing with 33 points. The girls then moved on to the Sectional Meet on October 27th.
Bollnow, who placed first overall at the Regional meet, competed with some of the best runners in the state of Illinois and ran well enough to advance to the State Meet. The race will take place on November 3rd at Detweiller Park in Peoria.