Despite loss to Hinsdale South, 25-12 record marks successful volleyball season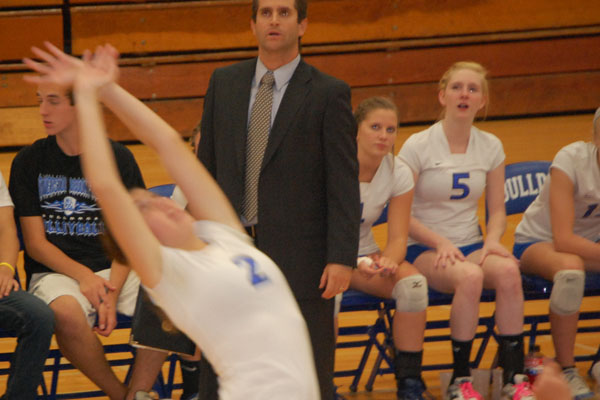 The varsity girl's volleyball team capped off a successful season with a heartbreaking loss to Hinsdale South Hornets in the Regional Championships. The loss gave the Bulldogs a 25-12 overrall record on the season.
Despite their record, the team had to persevere through many obstacles.
"We did have major injuries to juniors Monika Kasper with a torn ACL and Amy Frey who had chronic back pain and had to adjust our lineup due to that, which changed the dynamic of the team in games and practices" said Coach Dan Bonarigo.
Thankfully, the rest of the team stepped up in the face of adversity.
"Our overall leader was Lizzy Hawk. She was the most consistent player across the board even while having the most pressure on her. Emma Schander also stepped up towards the end up of the season after moving into a starting role," said Bonarigo.
Hawk's stellar play throughout the season led to her selection to the All-Conference team along with Hannah Claywell, the only two Bulldogs to receive that honor. Hawk led the Bulldogs in assists, with 536 and aces, with 63, while Claywell had a team high 167 kills.
Although the team will be losing many of its core contributors to graduation next season, expectations will be high, thanks to returning players Amanda Lelivelt, Amy Frey and Monica Kasper, to name a few.
While it's hard to minimize the success of the teams' season, the loss was still a tough one to swallow.
"It's hard leaving the team and the seniors because we've been together for so long" said senior Annabelle Gardiner, "I feel like we are a really close group and that's something rare in a group of teammates".