Opening Day has us thinking Top Five Baseball Movies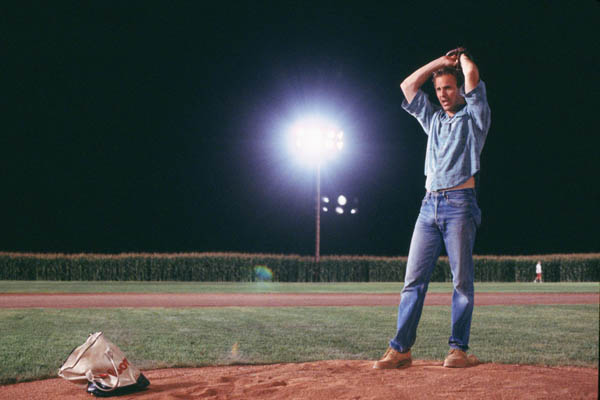 With baseball finally coming back into action this week, there is definitely much excitement in the sports world. Excitement in the players, but possibly even more importantly the fans, and I am one that undoubtedly falls under the latter. Personally, my infatuation for baseball goes beyond the game itself and to the big screen of motion pictures as well. There are a variety of iconic baseball films that are cherished all around the world, but without further ado, I give you what I feel are the top five baseball movies of all time.
#5. "Fever Pitch"
When charismatic Red Sox fan Ben Wrightman (Jimmy Fallon) meets work crazy Lindsey Meeks (Drew Barrymore) she finds him sweet and irresistible. The two absolutely hit it off and when it is wintertime Ben can spend every last hour with Lindsey. However, when spring comes riding around the corner Lindsey soon realize Ben's obsession with the Boston Red Sox. She thinks it is perfect until everything suddenly takes a turn for the worse, and comes to the realization that Ben's obsession with the Red Sox may be larger than his love for her. Can Ben discover what is truly important in his life or will love suffer from his boyish ways? With many laughs along the way Fever Pitch is the perfect romantic comedy that shows the depths of love, even if baseball gets in the way.
Although for many baseball fans, an ideal baseball movie isn't romantic, this one is definitely the exception to the rule. Fever Pitch is one of the best baseball movies of all time for two reasons. First, the non-stop laughs it leaves you with during. Jimmy Fallon is absolutely hysterical and that is never lost on you throughout the movie. Lastly, it is in my personal top five because of the rich baseball history it covers throughout the film. During the filming of the movie, the Boston Red Sox went on to end the 88 year curse of the Bambino by winning the World Series. The fact that the movie could capture that historical aspect of baseball along with a phenomenal story is why I consider it one of the best baseball movies ever made. (Little known fact: Jimmy Fallon and Drew Barrymore actually celebrated the Red Sox's World Series Game 4 victory on the field with the team, which was put in at the end of the film.)
#4. Moneyball
With disappointment from losing to the Yankees in the playoffs the prior season, Oakland A's general manager Billy Beane (Brad Pitt) is ready to build a new team. He just lost franchise players Johnny Damon, Jason Giambi, and Jason Isringhausen and doesn't have nearly enough money to go out and buy premier free agents that other teams can. What he can do is try to win with the budget he has. With the help of taking under his wing Yale Economics graduate Peter Brand (Jonah Hill), assessing players in radical ways might just work to propel them to a pennant. Ideas never utilized before, such as primarily focusing on OBP (On Base Percentage) is what their tactics are, and with determination, they might just be able to prove the entire baseball world wrong. Money buys talent, but it doesn't buy wins.  Production and hard work does, and that is what Billy and Peter are out to prove.
Moneyball is without a doubt, one of the best baseball films of all time because of the way the story was portrayed. With incredible acting from Brad Pitt and Jonah Hill, you watch the film and feel as if they truly are thee Billy Beane and Peter Brand. The movie is also amazing in the respect that it focuses on something that no other baseball film had focused on before, and that is hardcore statistics and analytics projecting a quality ball club. I love the movie so much because it not only takes on a world of its one with numbers and insane baseball phenomena, but it also captures a truly historical moment in baseball history.
#3. *61
In the spring of 1961, Roger Maris (Barry Pepper), who although won the AL MVP the year before for the Yankees, is still in the eyes of everyone in the sports world, the small town boy from rural Kansas. Although he is a proved superstar, living in the shadow of fan favorite Mickey Mantle (Thomas Jane) is still no easy way to live. Both Roger and Mickey begin the season with high hopes of hitting a lot of home runs, and what ends up happening is exactly that. The season goes on and it is soon realized by everyone that they are both in the race to beat the all time single season record for homeruns in season that the illustrious Babe Ruth holds, 60. However, ailing health sidelines Mickey and it is now up to Roger to try and beat the record. With the fans against him the entire way, it is a stressful road to trying hit number 61. He receives hate mail constantly, begins to lose his hair and even all hope of carrying on. Can Roger do the unthinkable? Can Roger hit 61? *61 tells the story.
*61 is not only one of the best baseball movies that I have ever seen, but it is additionally one of the best historical films I have ever seen. The movie truly captures the sense of how life was in the early 1960's and how life really was for ballplayers of the time. The life players lived back then was worlds apart from what the athletes of today live, and to just get a taste of that in *61 is really eye opening. The movie is a personal favorite of mine too because of the story it tells. The story of Roger Maris and his pursuit to beat one of the most legendary records of all time, is still to this day one of the most admired sports stories of all time, and for that reason alone, it is one of the best baseball films ever made.
#2. The Sandlot
In the summer of 1962, shy sixth grader Scotty Smalls (Tom Guiry) unhappily moves to Los Angeles with his mother (Karen Allen) and stepdad Bill (Dennis Leary). Scotty was never good at making friends, but soon after seeing some local boys playing baseball in an old sandlot in town, he makes an attempt to finally step out of his comfort zone. Once he does he embarrasses himself miserably, but with the help of Benny Rodriguez ("The Jet" his friends call him), he soon becomes a part of the gang. One day though the group runs out of balls and Smalls knows exactly what to do: just get one from Bill. The one he gets from Bill though is skyrocketed over the fence and lost forever in notorious Mr. Myrtle's backyard. Smalls thinks nothing of it, but what he doesn't know is what soon makes this summer the most hectic of his life. The ball Smalls took wasn't just any ball. It was signed by the Sultan of Swat, the King of Crash, the Colossal of Clout, the Great Bambino himself, Babe Ruth.
The Sandlot follows the boys and their endeavor in getting that ball back . Each and every one of them know that if that ball doesn't get back to Smalls and back in his stepdads display case, he is dead. The movie itself, although in the eyes of many is just a kid's movie, is truly much more than that. With laughs along the way from characters like Hamilton Porter and Squints Paladoras, the movie is in simple terms a classic. Every single time I watch it, I catch myself reciting the script word for word. It is an amazing story that truly epitomizes what any American boy would do in the summer; playing America's beloved pastime. The movie is not only up there with one of the best baseball movies out there, but up there in my favorite movies of all time. It has heart, determination, brotherhood and above all, unconditional love for the greatest sport ever made: Baseball.
#1 Field of Dreams
Ray Kinsella (Kevin Costner) is just your average guy, trying to support his family by doing the last thing he had ever expected doing with his life; being a farmer. He had always had the fear the he would turn into his father and to his dismay, he is doing exactly that. Although he is no whiz with crops, he does know one thing, and that is his love for baseball. One day before dinner, just like any other summer evening, Ray goes out to check on the corn, but what he hears this night in the fields is something he has never dreamed of hearing. "If you built it he will come". Ray doesn't know what to think of it at first but he soon envisions exactly what it means. He has to build a baseball field for Shoeless Joe Jackson to come back and play. Ray soon becomes the town looney and plows more than half his crop to build the field. Months go by, summer turns to fall, and fall turns to winter. One night though, Ray's daughter Karen goes to her father and tells him a man is out on the field. Who is it? None other than Shoeless Joe himself. At first Ray had thought it was just Shoeless Joe he needed to bring back but with a whirlwind of events, it is actually much more than just a ballplayer he is in search for.
With help from infamous baseball legend Shoeless Joe (Ray Liotta), quite literally the one hit wonder, Archibald "Moonlight Graham" (Burt Lancaster), 1960's activist, Terrence Mann (James Earl Jones), Ray journey's to find what he is truly looking for in life. Field of Dreams is the best baseball movie ever made because it captures so much within it that truly cannot be listed. While watching it (baseball fan or not), you begin to have an overwhelming sense love and appreciation for not only the game of baseball, but the testament of the true human spirit. To this day I still get choked up at the end, and that is saying a lot. Not much can make me close to tears, but the end of Field of Dreams does, and it never fails. I have now watched the movie countless times and I can say one thing; I just don't get tired of it. I think if you ask any baseball fan, they would say the same thing and that is that Field of Dreams is a timeless classic. The aura  not only leaves me with a sense of love for the game, but also the belief that anything is possible.

There were honorable mentions that I know are good films, but I haven't personally seen enough to rate my top 5 favorite. Those movies include, The Natural, A League of Their Own, Bull Durham, and Major League. All of those movies that did not make my top 5 are great in their own respects, but without a doubt, the list I have are some of the five best baseball movies ever made. They are all different, yet they are all the same. They all share a certain aspect of a truly spectacular sport, that although is said to be just a game, is in reality much more than that.