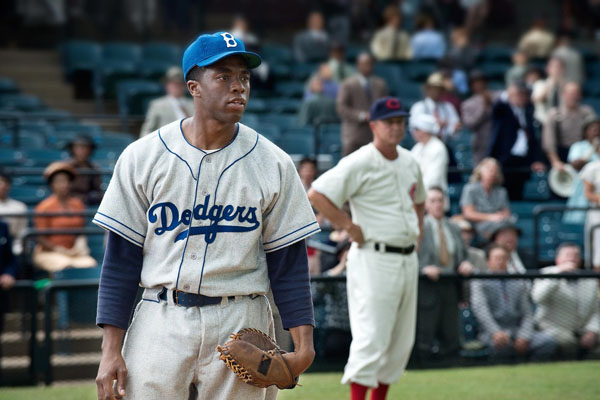 In 1945 a nation of strong and powerful people were finally returning home from war. While Americans were defending their country overseas to battle against the tyranny of Europe, sadly they had to come home to troubles as well. Every white soldier had the privilege to come home with honor and the utmost valor and unfortunately the case for African American's was quite a different; not such a happy story. Black American's were fighting for their lives for a country that did not even have the decency to appreciate them.
As for the baseball world, the trend was identical. While white players like Stan Musial, Bob Feller, and Ted Williams came home as heroes, black players of the Negro leagues such as Satchel Paige and Josh Gibson came home to Jim Crow Laws and segregation. Not a single black man had ever played with a white man in a Major League game, and the thought of such a thing at the time was unheard of. However, one person was determined to change the trend, his name: Branch Rickey, the owner of the Brooklyn Dodgers. He figured that baseball is colorless, and if a man can help the team win, he deserves the chance to play. Although Rickey knew that he wanted a black ballplayer on his team he didn't know who he was, where he was, or what he was like but he did know one thing for sure and that is that he would do the unthinkable: break the color barrier and ideals of America at the time and play for the white Brooklyn Dodgers. That one decision would not only change baseball, but would also influence America as we know it today.
42: The Story of a True American Legend is the truly amazing story of Branch Rickey (Harrison Ford) sending the hard-nosed Negro Leaguer Jackie Robinson (Chadwick Boseman) to the Brooklyn Dodgers; making him the first black player to ever play in Major League Baseball. In the winter of 1945, Branch Rickey and his associates came to the conclusion that Jackie would be their man. They knew he was rough around the edges and could take the consequences of what came with being a black man in a white man's sport. Although unsure of what he is truly capable of, Jackie comes to realize that he indeed has the guts to play in a league where he has the biggest target on his back. His journey to gaining respect was not an easy one, but with the help of Branch, his personal columnist Wendell (Andre Holland), and his wife Rachel (Nicole Beharie), what would seem impossible became conceivable and Jackie would go on to be one of the most iconic and beloved players in all of sports history.
The movie covered a two year span, and essentially revealed Jackie's struggle of surviving in a world of hatred; that being Major League Baseball. Traditionally in my reviews I give a pretty standard synopsis of the film, (beginning, middle and tease to the end) but in the case of 42, I can't. I can't give a standard synopsis of the film because the film wasn't just your run of the mill story; it was a man's life. The movie wasn't fictional; it was a factual account of a truly strong man who endured cruelty and hardship. For that sake alone, I believe that the movie can't really be summed up into plain words. What can be said though is that it 42 was a truly incredible film that followed the life of a truly incredible man.
There was a plethora of things that I appreciated about the film, but if there were three things that I felt were the best specifically, it would be Chadwick Boseman's stunning performance as Jackie Robinson, Harrison Ford's incredible portray of Branch Rickey, and the approach of the film and how it carried out.
Chadwick Boseman's performance of Jackie Robinson in all honesty almost can't even be described in words. Boseman carried himself on screen with such a swagger that left me with the impression that I was watching old footage of Jackie Robinson himself. I am a baseball enthusiast to say the least and have seen a million highlights and videos of Jackie from when he played, and I can truly say that Boseman's portrayal is essentially perfect. Not only did he look like Jackie and had the swagger that Jackie was said to have had, but he also did an incredible job acting in general. I had never seen Chadwick Boseman in a film prior to 42, and I think myself, along with anyone who had seen the film, can say that he is one incredible actor. Like I said, watching Boseman was like watching Robinson himself and I think whenever an actor can lose himself and become another person like Boseman did, then that actor did a phenomenal job.
Additionally to compliment Boseman's astonishing performance perfectly was Harrison Ford, who did an amazing job as Branch Rickey. Based on looks alone, Harrison Ford looked like Branch Rickey exactly. Honestly, if I hadn't known prior to seeing the film that Branch Rickey was played by Harrison Ford, I would have never known. The character did not even look a single thing like Ford, so in that regard I guess it should be the makeup and costume designers to thank for that amazing aspect of the Ford's portrayal of Rickey. Besides the fact that Ford for all we know could have been Branch Rickey's identical twin, he also did a superb job taking on the difficult role. Harrison Ford has been in some great films, but until 42, I had never seen him perform so well as an actor. The way he puffed his cigar and walked around with a limp, I truly felt like I was watching Branch Rickey reincarnated on the big screen, and that is all due to the fact that Harrison Ford did an incredible job with the role.
Lastly, and without a doubt most importantly, the approach of the film and how it progressed throughout was immaculate. Going into seeing the movie for the first time (I have already seen it twice), I was a little nervous for how the story of Jackie Robinson would be portrayed. I really thought that no film could capture the depths and magnitude of Robinson's story, but to my pleasure I was wrong. The movie's approach began from the standpoint of a third person and eventually became first person, and I think in doing that, the story was allowed to develop more and progress in a manner that I think was essential to audience comprehension. Brian Helgeland (Mystic River/L.A Confidential) directed and wrote this story to absolute perfection.
Now having seen the movie twice, I can definitely say that 42 is now in my top five favorite baseball movies of all-time. It captures one of the best stories ever, which is the story of a man with a dream destined to do great things. It is said that "one should not pray for an easy life, but for the strength to endure a difficult one" and I think that Jackie Robinson fulfilled that ideal every day of his life. He not only did what everyone else of the time thought was impossible, but paved the way for generations to come. 42 is the only number in all of Major League Baseball that is universally retired, and that definitely speaks volumes on what kind of an influence Robinson really was. His legacy to this day still lives on, and to even get a little taste of that in 42 is truly a remarkable thing.